Why Stepping Away From Manual Accounting is Vital For Business Growth.
(ThyBlackMan.com) Managing a small business is stressful, time consuming and let's not forget, inspirational. It requires determination, passion, time, undivided attention and financial backing or for most – a gamble on your savings.
Plus, on top of running a business whilst trying to cover your monthly expenses (personally and professionally), comes managing your business's books. Traditional accounting practices encompasses using conventional accounting processes such as a calculator, spreadsheets, folders galore and pencils and erasers. This consumes vast amounts of time (which is money) and energy. The frustrating part is that keeping track of your company's finances using outdated methods, not only takes the fun out of being in business, but it also doesn't add value to your profit margins and more often than not, means you're prone to human error.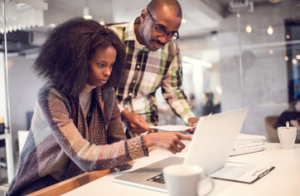 Thanks to technology and software advancements, small businesses can now afford the best in accounting software and for many, that's a quickbooks alternative, as quickbooks is expensive and notable competitors have come into the marketplace offering more up to date systems, better user experiences and cheaper plans.  
Benefits Of Affordable & Leading Accounting Software
Tier one accounting software programs enable you to keep on top of your BAS and GST. It's the basics done well that matter most. The basics of

quality accounting software

permits you to gain immediate clarity over your net business. You can also keep track of receipts, payments and GST; watch your net position change in real-time; generate multiple reports enabling you to gain valuable insights such as comparing net results quarterly; reconcile bank transactions; forecast with confidence and of course you can share controlled files with your accountant, bookkeeper or accounts team as a whole.

You should also aim to purchase an accounting software program that operates across Mac, PC, tablet, or smartphone devices. That way, you can use their programs on devices you're most comfortable with.

With quality accounting programs, comes free product updates when they are available streamlining and improving your user experience. Updates also ensure your data is protected whilst using the most sophisticated cloud-based accounting software.

Leading software brands should offer unlimited payroll options to suit your business' needs and size. Ideal for a growing business!

You also want to be able to access automatic bank reconciliation within your accounting software as it enables you to connect your business to major banks. You can even split payment amounts into separate accounts. Bank reconciliation is the process of comparing cash activity of financial records, identifying mistakes and monitoring cash flow.

Unlock unlimited project management tools like being able to track the profitability of your business per job, category or client. And you can even identify where your business is making money helping you to make strategic business decisions.

Gain access to unlimited invoices which if required, can be tailored for example to suit certain discount levels per client.

Free customer "real-time" support across both phone services and online. That means when you reach out to support teams, you'll talk to a real person who takes the time to listen to your questions and provides a solution.


Cancel at any time with your data saved for 5-7 years depending on the provider.



Industry standard security with encryption and firewalls safeguarding your data.
Leading accounting software programs also give you the power to add features as you need them. This means your accounting experience can be as simple or complex as you want or need it to be.
Many quality, Australian owned accounting software brands also offer the latest developments in user experience technology which are even ahead of Xero believe it or not on a number of technology fronts. Unfortunately, Xero uses HTML4, whilst other leading brands now incorporate HTML5 technology.
The latest accounting software improvements within progressive accounting software brands are simply amazing and have changed the manual accounting landscape and state of play for overall business growth, perfect for small to medium businesses.
Staff Writer; Lou Jackson