The Top Four Motivating Questions to Ask When Launching an Exercise Plan.
(ThyBlackMan.com) When warm weather arrives most people head outside or to a local gym and start the process of dropping the pounds they've gained during the cold season.
Most, however, fail to stop and ask a few fundamental questions that, if properly considered, could lead to enhanced results from launching an exercise program.
Getting in shape does not necessarily require advanced knowledge, but it does require a careful and detailed approach to what motivates us as humans to undertake any task – let alone the task of shaping our bodies and, to an even greater extent, our lives.
Here are the top four questions to ask when you are ready to get in shape.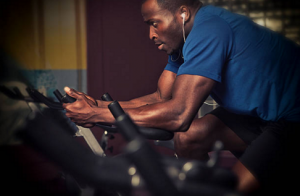 What Makes Me the Most Motivated to Change?
When you look at your body, as most do every day, what do you see? More importantly, when do you see what you see? In other words, what makes you firmly believe you need to get into shape? Is it during social interactions? Is it in the morning when getting dressed for work?
Or, maybe it's when you get to work and you notice that your work performance could be better? Is it during physical activities like walking up a flight of stairs? It may boil down to the one motivating factor that most people are loathe to admit: low self-image.
Finding the 'why' before you launch an exercise program is important.
What Upcoming Event Will Help Me to Get and Stay in Shape?
Next on the list of questions is to determine a goal that will keep you focused during your exercise program. At the top of that list of goals should be just merely becoming a better person. A better person experiences a better life – physically, mentally and spiritually.
You most definitely enhance your quality of living with exercise. Other goals to shoot for could include your birthday, a wedding you will be attending, an athletic event such as a marathon or just taking a cruise to an island where you want to be bikini ready.
What Part of My Body Do I Most Want to Change?
Now we're getting down to the 'nitty-gritty' as they say. You must take a look at that body and determine which part of it most disgusts you. Don't just say "all of it!" and leave it at that. Be specific. Although there is no such thing as localized fat loss, that doesn't mean that you can target an area of concern.
For most women, for instance, it's the stomach area. For other people, it could be legs and butt. Or it could be simply toning the back of one's arms. The approach should be holistic; you should want to workout your entire body. But you can give special attention to those pesky areas.
What is My Biggest Challenge to Staying on Point?
This is perhaps the most important of the four questions. What is the number one obstacle that could potentially derail your exercise program? In other words, what most prevents you from staying on task? For a lot of people, it's portion control. For others, it's simply how many meals they actually can get in per day.
Travelling to the gym can put a lot of people off exercise. If you lack time, or have a busy schedule, driving 15 minute to your local gym is not always the best option. You may want to invest in a home gym, that way you have zero excuses not to work out! Here is an interesting article comparing home gym exercise equipment.
One of the biggest challenges is controlling "binge" or social eating (especially when there's a potluck every other week at the job)! Then too, a lot of people have trouble staying focused due to munching on the wrong things at night.
Whatever it is, identify the single area you are most vulnerable to.
Getting in shape requires that you understand what's motivating you.
Staff Writer; W. Eric Croomes
This talented brother is a holistic lifestyle exercise expert and founder and executive coach of Infinite Strategies LLC, a multi-level coaching firm that develops and executes strategies for fitness training, youth achievement and lifestyle management. Eric is an author, fitness professional, holistic life coach and motivational speaker.
In October 2015, Eric released Life's A Gym: Seven Fitness Principles to Get the Best of Both, which shows readers how to use exercise to attract a feeling of wellness, success and freedom (Infinite Strategies Coaching LLC, 2015) – http://www.infinitestrategiescoaching.com.