Your Flat Abs Checklist for the New Year.
(ThyBlackMan.com) The New Year is here and everyone's rushing to the gym to chisel the body of their dreams. At the top of the list is how to get a flat tummy. Flat abs are supposed to be sexy, right? Well, they are sexy but there's a few things you must do and don't do if you ever want to see your six-pack again. The absolute first essential, though, is the proper attitude. You must be in it for the long run! You cannot melt body fat overnight – it's a process! Dig in your heels. Commit yourself to the task and remember: Rome was not built overnight!
The other thing to remember is that there is really no such thing as localized fat loss. It's not possible to target just the stomach, with the hopes of seeing your long-lost abs. You must work your way to the core by working the whole body.
Here are three other items on the flat abs checklist to remember.
Reduce Bad Carbs
There are good carbs and there are bad carbs. We have met carbs and determined that carbs are not the enemy. Indeed, carbs are a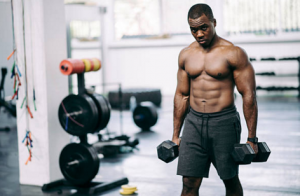 necessary and vital part of your body's ability to function. Go carb-less, as many extreme diets promote, and you will go energy-less! The idea is to reduce carbs, but not to the extent of endangering your overall health.
Here's the key: reduce the bad carbs and you will make great strides toward a flat tummy.
Up the good carbs, down with the bad carbs. The rule of thumb: good carbs do not dissolve into your blood stream right away. Hint: that burger and fries you eat for lunch at least three days out of the week? Not good!
Increase Protein
Proteins are the Calvary that comes to the rescue when the body has been overrun by bad carbs! Protein is the building block, the protector of your body's strength. You need protein to keep aid in keeping your muscles and bones strong and fortified. You should eat protein sources in commensurate amounts throughout the day.
The biggest sources of lean protein are meats, vegetables and fish. One qualifier here: a man or woman shall not live by protein alone – or an overabundance of it either! In other words, don't drink protein shakes all day long. I coach clients to consume protein moderately via the aforementioned sources; otherwise, limit yourself to no more than two protein shakes per day.
Do Your Core on the Floor
The first two points dealt with the kitchen. Now we get to the fun part: what to do in the gym to get a flat tummy. First though, what NOT to do. Do not use machines to get a flat tummy. It simply will not happen. Machines reinforce what's called 'fixed motion'. The problem is your stomach is not designed for fixed motion (your whole body isn't as a matter of fact), it's designed to operate in the realm of free motion.
Here's the key: do you core on the floor. In other words, leave the machines alone and use your natural body weight. A good exercise, for example, would be the plank (or even leg raises from a plank).
Flats abs are possible, but you must dig-in for the long term and be committed.
Staff Writer; W. Eric Croomes
This talented brother is a holistic lifestyle exercise expert and founder and executive coach of Infinite Strategies LLC, a multi-level coaching firm that develops and executes strategies for fitness training, youth achievement and lifestyle management. Eric is an author, fitness professional, holistic life coach and motivational speaker.
In October 2015, Eric released Life's A Gym: Seven Fitness Principles to Get the Best of Both, which shows readers how to use exercise to attract a feeling of wellness, success and freedom (Infinite Strategies Coaching LLC, 2015) – http://www.infinitestrategiescoaching.com.