5 Moves You Need To Make For Career Advancement In 2018.
(ThyBlackMan.com) 2018 is just around the corner, and while you will be thinking about the holiday season, you will also be taking stock of your life. At the end of every year, it's natural for us to think about where we are in life, and this is especially true when it comes to our career. Think about it. Are you where you want to be? Have you achieved all that you set out to do at the start of this year? Has your job situation changed, for the better or the worst? Or are you still stuck in the same position at work where you were this time last year?

As this year draws to a wintry close, consider the following if you want to advance in your career in 2018. Consider them your New Year resolutions, a checklist to cross off as you strategize for your future.

1. Schedule a meeting with your boss

You need to own your career, and if your boss hasn't taken the time to consider your development, pin him down with a meeting to review where things stand. While you might not want to ask him for a promotion outright (unless you can prove your credentials), you might still ask him for advice in how to rise up the ranks.

2. Find ways to develop professionally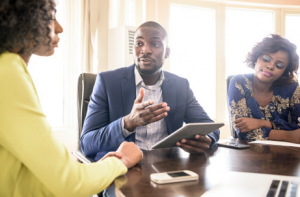 Let's be honest, the reason why you haven't risen up the career ladder may be because you don't have the skills or the training behind you. A little bit of study hurts nobody, and you can rise quicker with certain qualifications behind you, such as a master in human resources management. If your boss won't give you the time to study for your professional development, look for something you can do after work hours, such as an online course or a night school class near you. Of course, if internal courses are being offered by your employer, snap them up pronto!

3. Change your mindset

To maximise your success, you need to start thinking positively. You may not be where you want to be right now, but don't look upon your life with sorrow. There are bound to be some accomplishments you have achieved, no matter how small, so be thankful for what you do have in your life; career or otherwise. Then look at the setbacks you have faced. Learn from any mistakes made, using them as teachable moments rather than abject failures. You will strengthen your character when you alter negative ways of thinking, giving you the power to move forward with renewed vigour.

4. Work on your resumé

You may not be looking for a new job at the moment, but that doesn't mean you can't improve your resumé. Update it if with all the additional achievements and responsibilities you have attained. This way, should the unthinkable happen and your job does end, or you get tired of waiting for your boss to give you the promotion you think you deserve, you can start sending it out to other employers when appropriate. As an aside, work on your online resumé as well, such as creating a portfolio, or managing your LinkedIn profile, which will also hold a lot of sway for prospective employers. Be sure to send your current boss a link to it as well, just as a reminder of your worth.

5. Be better

We're sure you're a respectable employee, but self-improvement is something we all need to focus on. If there is anything regarding your performance that is holding you back at work, do the right thing and make things better. This includes doing a SWOT analysis, working out your weaknesses, while working on your strengths to capitalize on your skillset. Be the person God made you to be, at home and at work, and as you move forward in 2018, you will not only be a better person, but you may find life improves as a result.
We hope 2018 is a fantastic year for you. Thanks for reading.
Staff Writer; Doug Gold