The Business Travel Revolution: Why It's Getting Easier.
(ThyBlackMan.com) Are you still reeling from a business trip you took a decade ago? How about five years ago? Don't worry. Business travel has vastly improved over the past few years. In fact, business traveling is easier and more convenient than ever before, and it's getting better all the time.
Amazing apps to facilitate business travel
Staying connected and on schedule is a breeze thanks to a range of cool free apps and other business class must-haves. Seatguru provides business travelers a view of their aircraft seating plan prior to boarding. If you arrive at your destination with an appetite, you'll be glad to know about OpenTable. The app allows travelers an easy way to make in-advance dinner reservations at tens of thousands of restaurants around the globe.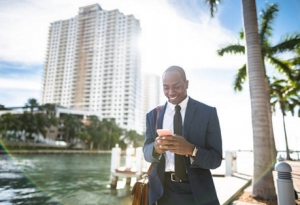 Before you leave on your adventure, load your smartphone's GPS with maps of your destination. Once you arrive, the task of navigating a new town in a rental car will be exponentially easier. Even if you know the way to the Marriott Boston by heart, add the address to your GPS. Jet lag can wreak havoc on a business traveler's memory.
A recent study reveals that nearly 80 percent of business travelers actively pursued a career that came with travel opportunities, and that a whopping 72 percent believe that business travel is a stimulating activity. Fifty-four percent say that travel for business or personal reasons disrupts their routine exercise and fitness regimens, reports Tnooz magazine. Plug some good exercise apps into your device, and stay in shape on your business trip.
The future of business travel
Confusing cash conversions and money machines may become a thing of the past thanks to improvements in digital transfer technology. Carlson Wagonlit Travel predicts that snap, scan, and tap-to-pay options will soon be available for virtually all money transactions. Before long, business travelers on the go will be able to sync monetary activities by way of 'intelligent wallets' built into smartphones, wristbands, and other futuristic high-tech devices.
As more and more smartphones are utilized for financial transactions, there will be less and less need to manually submit expense reports. According to CWT, business purchases will be managed by algorithms and personal profiles. This smart travel technology will eventually 'learn' each individual business traveler's preferences and financial behavior, thus facilitating personalized recommendations and reservations, reports Telegraph UK.
Safer business travel
Company headquarters stay apprised of employee whereabouts and security via real-time tracking and traveler updates. Technology that offers graphical representation easily advises travel coordinators of the precise global location of voyaging employees. Expect to see future versions with the ability to send automated 'do you need help' and other security messages to business travelers.
Luggage is lighter than ever. This is a worthwhile improvement as airlines further reduce checked-in baggage limits. Learn to pack lighter and if you can get by with carry-on baggage only, do it. Efficiency is always a worthwhile goal when traveling the world on business.
Staff Writer; John Price