Homework Tips for Students in Rigorous Classes.
(ThyBlackMan.com) Students in advanced high school classes, collegiate study, or even post-graduate fields of study know how demanding it can be to handle the many assignments required of them. As a black student trying to prove you in such an environment, the pressure can be intense. And falling behind this work can mean the difference between an outstanding academic career and one that falls well short of expectations.
Luckily there are certain methods of both approaching and completing this work away from the classroom that can ease the stresses and pressures of homework on any academic level. If you're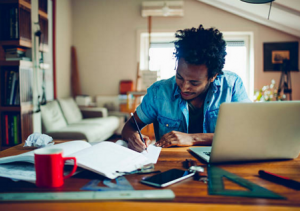 a black student looking ahead to a semester or a year of hard work and study, much of which must be done when you're at your home, dormitory, or whatever your current place of residence might be, these simple but effective ideas can be figurative lifesavers.
For those looking for outside help for certain homework assignments that might be too difficult to grasp, Assignment Expert is an outstanding resource of which you can take advantage. If you want to take on the assignments on your own, here are some ideas.
Get Ahead Of It
If you're in an advanced field of study, no matter what level, it's likely that your teacher or professor has given you some sort of syllabus or other document letting you know what's expected of you for their class. That gives you the opportunity to work ahead whenever possible. The pressures of difficult assignments only get worse if the time you have to do them is minimal. So do a little bit every night instead of a lot at the end. And, if possible, read ahead to the assignments and work that's not being covered yet in class and see if you understand it.
Don't Do It Alone
One of the things that black students need to understand when they're struggling with keeping up with lengthy or difficult homework assignments is that they are generally not alone in that dilemma. Many other students are in the same ballpark, and it's likely that some of those students are taking the same classes. Study groups with such students are a good way to pool knowledge, allowing for the strengths of certain students in some areas to support the weakness of others. In this way, a student who might be at sea about an assignment can get the knowledge that they need to complete it or understand it.
Do It Your Way
You hear or read the same old, stodgy advice about homework from some people: Find a quiet, well-lit place, avoid any distractions, and so on. But no two students are alike. If you find that listening to rap on headphones while doing a term paper or calculus problems calms you and actually helps you to concentrate, you should do it. The main thing you need to do is to find the environment that works best for you and try to recreate it every time.
These are just a few of the ways you can ease the burden of rigorous homework assignments. Follow them and prepare for those grades to rise.
Staff Writer; Will Love