Kareem Abdul-Jabbar is wrong about 'one-and-done' basketball players.
(ThyBlackMan.com) Kareem Abdul-Jabbar is one of the legendary basketball players of all time. He had an excellent college basketball career that included playing for a coaching legend at UCLA in John Wooden. His professional career in the NBA is full of NBA records and significant accomplishments including being a six-time NBA Most Valuable Player and the NBA's all-time leading scorer. Abdul-Jabbar is also an introspective and analytical individual who recently shared his thoughts on the 'one-and-done' situation in college basketball with several freshmen leaving college early to enter the NBA. He mentioned that "It's a totally different circumstance now. Kids aren't going to college to get an education and play ball. It's one or the other." There are a few things wrong with Abdul-Jabbar's analysis of those former college freshmen who decide to make the leap to the NBA.
It is not surprising that highly touted high school basketball players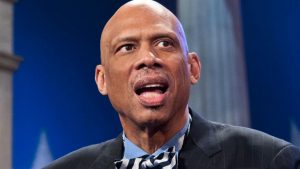 would envision their futures in the NBA. The idea of playing against the best basketball players on the planet and earning a seven figure annual salary would be appealing for most talented high school basketball players so a small number enter college with the idea of playing well enough to be considered a first round draft pick in the NBA Draft.
There are "kids" going to college specifically to play basketball as Abdul-Jabbar mentioned and leaving early to declare for the NBA Draft. Last year, 59 college basketball players left college early to enter the NBA Draft but 59 is a small number of the hundreds of college basketball players who decided to stay in college for various reasons to play college basketball.
Currently, in order to enter the NBA Draft, basketball players have to spend at least one year in college or be one year removed from their high school graduating class. Given the financial incentives of becoming a NBA player, Abdul-Jabbar should understand that while there are high school basketball players that enter college with the intention of leaving for the NBA as soon as possible, the far majority enter college with the intention of earning their college degree.
Kareem Abdul-Jabbar also has an issue with so many freshmen leaving college for the NBA after being in college after one year from an educational standpoint. He stated that, "It's a travesty, I think. They're just using the college system as a stepping stone to the NBA, and that's really unfortunate. I think an education is vital to having a good life, and these guys aren't getting that opportunity. It's sad."
Education is always important and while getting a college education can be viewed as a positive for most young people, it isn't vital for high level college basketball players to get their college degree to be deemed a "success". Among the 15 men who were named to the 2016-17 All-NBA teams of the top NBA players, just one entered the NBA after spending four years in college, Draymond Green. There were five NBA players were selected for the All-NBA team after leaving college as freshmen and the most famous selection of all 15 men selected on the All-NBA teams is LeBron James, who spent zero years in college. It is safe to say that it is possible to be successful and have a good life even if a person decides to leave college early to pursue their NBA dream.
Staff Writer; Mark Hines