PlayStation 4 Pro Is Not Sony's Answer To Project Scorpio, But Its Successor Is.
(ThyBlackMan.com) Many of us feel that Sony's PlayStation 4 Pro was released too early. Its rival Microsoft is still working on its Xbox Project Scorpio which is scheduled to arrive during Holiday 2017. So the late arrival of Microsoft's 4K gaming strengthens the fact that PS4 Pro launch was not planned very well. But if the reports are something to go by, Sony didn't introduce PS4 Pro to compete against Project Scorpio because the company is planning to launch a new console in 2018.
The rumors circulating PlayStation 5 release lost the ground last year when Sony introduced PS4 Slim and PS4 Pro. But according to an industry analyst, who accurately predicted PS4 Pro and Slim, Sony will launch a new console after the first quarter of 2018. The report comes from WSJ claiming that there are chances that we will see a new console within one and half year.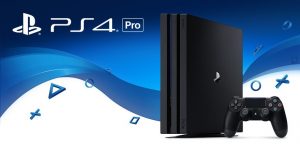 Sony has not released any statement about the company's future plans, but the specifications of PlayStation 4 Pro are enough to understand that PS4 Pro is not the right console to compete against Microsoft's massive Project Scorpio that sports 6 teraflops power and 12GB memory.
If you look at the PS4 Pro specification, its CPU is outdated. Sony hasn't added much into this console in terms of technical aspects. As a result, the console gives 'better than average' 4K performance. On the other hand, Xbox Project Scorpio runs on AMD's customized Polaris-grade GPU that makes it more powerful than any other consoles released by Microsoft.
In many tests, Sony PlayStation 4 pro appears to have a competitive edge over its rival. But since the details about Microsoft's 4K console are scarce, it is too early to say that PS4 Pro beats Microsoft in the 4K console war.
After releasing Xbox One, Microsoft however has built a strong userbase around the world, but the company always ignores questions asked about its sales figures. So, when the rumors about Sony's new console are rising, and if they turn out to be true, there's a lot more we can expect from Sony. The company has always remained ahead in the console game.
Recently, Sony revealed its total earnings during the fiscal year 2016 claiming that PS4 has surpassed 60 million unit sales. The company reported its Games and Network Services branch rose from US$420.5 million to 14.79 billion (6.3 percent) in sales. Sony earned US$1.21 billion after operating income losses of 1.9 percent to US$2.58 billion.
The company's financial year 2017 guidance suggests that for its Games and Network Services, which include PS4 and its subscription services, earnings will rise from US$308.47 million to US$16.94 billion (14.6 percent) in sales. The company also expects to see US$1.52 billion operating income.
It is obvious that Sony is getting stronger, but the company should not overlook the potential damage Project Scorpio can cause. Microsoft's 4K console will be the only strong and capable new console in the market during this holiday season.
Is Sony planning to take away attention from Microsoft's Project Scorpio? If the reports are correct then Sony is indeed planning the same by announcing a new console. The company usually announces its new consoles a couple of months before the launch. For PS4 launch, it made an announcement approximately 8-9 months before and for PlayStation 4 Pro release, the company surprisingly revealed the details just two months before the console hit stores.
Now when an analyst is reportedly claiming the launch of a new console by Sony, if the report are accurate, we can expect Sony to make an announcement this year. PlayStation 4 Pro is undoubtedly a capable gaming console and fans who purchased the console didn't report any significant problems with the performance, games and stability. So, there are chances that the company will rely on its current generation consoles.
Meanwhile there are reports about Microsoft's Project Scorpio price, claiming that the 4K console will be too pricy. If it happens, Sony would not want to bring another console, as giving so many options would be a drawback for the company.
Staff Writer; Corey Shaw
Have any Tech Tips? News? Hit up our Tech Guru at; CoreyS@ThyBlackMan.com.