Selena Gomez, Justin Bieber relationship, True love sometimes hurt.
December 10, 2016 by Staff
Filed under Uncategorized
(ThyBlackMan.com) Currently Selena Gomez and Justin Bieber are rumored to not be dating one another. It seems That Selena Gomez is really focused on trying to get her life and career back on track after her recent visit to rehab. We all know Justin Bieber is very important to her, as he was visiting her in rehab and trying to provide as much support to her as possible. But Selena is not in a position to drop what she is doing to focus on The Biebs. Besides moving to Canada away from her family is not on the top of her priority list. She has to finish her tour that was abruptly canceled due to her being admitted into rehab.
A close source to Selena Gomez stated that she is very focused on her upcoming music while Bieber has said multiple times he is not looking for serious relationship. On December 8th's taping of The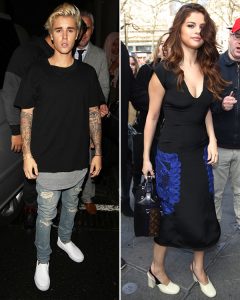 Ellen Degeneres Show, Justin Bieber confirmed he was 100 percent single and not looking to involve himself in a relationship. "I am not dating anybody. Single. I'm not really looking either," Bieber
explained to Ellen Degeneres. Justin Bieber is young and having fun, last week "Late last night Justin and Hailey ran through the lobby of the Montage and into an elevator together," an eyewitness told Hollywood Life. They looked happy, giggly and were holding hands."
Seems like he isn't the only one not focused on a relationship. As Selena Gomez is young and caught the eye of One Direction band member Niall Horan. Selena's handlers advised her not to date. Hollywood Life stated, "[Selena Gomez] is flattered by what Niall had to say to Ryan, but part of her recovery involves no serious relationships," a source told the outlet. "In fact, for the time being she's been advised not to date. Plus, dating is pretty much the last thing on her mind now. She is focused on herself and spending time with close friends."
Selena Gomez has a lot on her plate dealing with symptoms of Lupus, including anxiety, panic attacks, and depression. Us Weekly October's issue stated that Selena Gomez can go to a very dark place and had traveled to a facility outside of Nashville, Tennessee in hopes of getting healthy.
Sources told Touch Weekly that "It was only a matter of time before they got back together. Selena Gomez was all for it. As long as Justin proposes. She thinks if they just bite the bullet and get married, all of their problems will disappear."
It may be best at this time to not push or force to a relationship as both Selena and Justin are off doing their own thing. With Selena is trying to get comfortable back into her routine, while maintaining her health being friends is best. Justin Bieber already stated that he is not interested in anything serious, but he will always be a good friend to Selena Gomez. Perhaps fans can plan for a wedding later on down the road.
Staff Writer; Amber Ogden
One may also view more of her work over at; AmberOgden.com.
Also connect via Instagram; 1amberogden and Twitter; MsAmberOgden.