Why Some People Are Natural Born Mentors.
(ThyBlackMan.com) When you hear the word 'mentor,' what comes to mind? Usually you think of someone who has been in your position, the one you find yourself in right now, and is able to offer words of inspiration and advice to help get you up and over any hurdles that might be standing in your way. We think of a mentor as an inspirational coach who always (or in our eyes 'should' always) know the right thing to say and do. A mentor is someone who can show us the way to go without actually telling us how to get there, right? Perhaps, and perhaps not. There is more to mentoring meets the eye and sometimes it's not something that can be learned.
What Exactly Is a Mentor Anyway?
It is often said that a mentor is a leader who has had experience and knows the pain of failure. However, a business mentor should know, and be, more than just a shining role model to follow after. A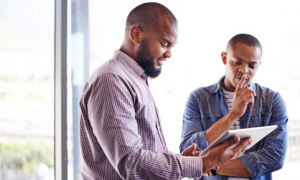 business mentor, to start with, would be one who has built a business from the ground up and was successful in his or her efforts. But, just being a successful business man or woman doesn't mean that you are ideally suited to mentor others. Experience is important but not the most important quality you should have.
The Ability to Impart Knowledge
A natural born mentor would be someone who has knowledge and knows how to impart it. For example, when starting a business, you need legal advice and may not have the finances to hire an attorney. Perhaps your mentor is a graduate with a Champlain College online masters in law degree, but is not a licensed attorney. Your mentor may be an accountant or a marketing executive who needed that knowledge for his or her own firm. Your mentor had the natural foresight to gain the knowledge needed to grow in his or her industry.
Personality Traits of a Good Mentor
A natural born mentor should be compassionate and caring; empathetic to what you are experiencing at any given moment. It doesn't take an online MSL degree to understand the frustrations of working through all the legal red tape of starting a new business but it may take a master of science in law to understand those laws in order to work your way through them. A good mentor will understand your frustrations, feel your pain but be strong enough to literally force you to work your way through and over those emotions.
A natural born mentor, then, is one who knows how to offer knowledge so that you can grow from it. Your mentor should be compassionate only to a point but strong enough to tell you when it's time to stand up and stop pitying yourself for any failures you've experienced. Knowledge can be learned but those character traits that define a good mentor are either inherent in a mentor's makeup or not. These natural born traits are what separates a great mentor from a good mentor, so if you are looking for someone to guide you through your current dilemma, this is what you look for.
Staff Writer; Kevin Currie