Bill Cosby, NBA Legend Marv Albert, Mainstream Media Loves One, Hates Other.
(ThyBlackMan.com) Last week, I was watching some NBA games on TNT and one of the game's announcers was famed broadcaster Marv Albert. He is considered by many to be one of the top announcers in all of sports history. He was inducted into the Naismith Memorial Basketball Hall of Fame in 1997, the National Sportscasters and Sportswriters Association Hall of Fame in 2014, and the Sports Broadcasting Hall of Fame in 2015. Some refer to him as "The Voice of Basketball."
He is the same broadcaster that was accused of forcible sodomy and pled guilty to a lesser charge of misdemeanor assault and battery in 1997. Albert was given a 12-month suspended sentence.
NBC subsequently fired Albert only to bring him back on the air after less than two years. For a more detailed summary of the Albert issue, click on this link.
Now juxtapose Albert's situation with the case of legendary civil rights activist, TV star, comedian extraordinaire, and incomparable philanthropist, Bill Cosby. Several women have come forward to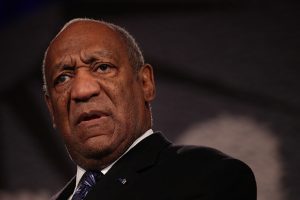 accuse Cosby of drugging and raping them, but these accusers have provided no evidence to backup their allegations. Yet, Cosby is treated as a convicted felon not only in the court of public opinion, but also by most of his business partners, like NBC.
It seems now that women have declared a war on men, especially feminists like media chasing attorney, Gloria Allred. She is behind the women who implicated Albert and accused Cosby. She was also behind similar attempts to destroy former presidential candidate Herman Cain, golfer Tiger Woods and former California governor Arnold Schwarzenegger to name a few.
Allred seems to have this insatiable obsession with bringing down Black celebrities, with Cosby being the most notable one, but that will be the focus of a future column.
Albert's then employer, NBC, stood by him simply because he pled not guilty when the charges were announced back in 1997. According to NBC, "This past May, when charges against Marv Albert became public, Mr. Albert asserted his innocence and assured NBC senior management that there was no basis whatsoever to the charges. Today, given Marv Albert's plea of guilty to assault and battery, NBC terminated its relationship with Mr. Albert."
Now, this is the same NBC that cancelled Cosby's new show that was supposed to air in 2014, right when these women all came forward with baseless charges. Cosby publically stated that there was no substance to these charges; unlike in the Albert case, NBC refused to stand by Cosby and give him the benefit of the doubt.
I will leave it to my readers to make their own conclusions, as to why there seems to be a double standard between how Albert was treated vis-à-vis Bill Cosby. Both are males, Albert is 75 years of age and Cosby is 79 years of age, one is White and one is Black, and one of them cost NBC money and the other one generated money for the media company.
Albert cost NBC money, because he was a paid employee, but Cosby made NBC money because he was a partner with them. So, they stood by the employee, who cost them money and rejected the partner who made them money. Can someone explain that to me?
So, it's been about two years since NBC cancelled Cosby's show. The same amount of time that Albert was made to sit on the sidelines after pleading guilty to a crime against a woman, even though others came forward and accused him of similar crimes. So, can we now expect NBC to reengage with Cosby about the timeline for bringing his new show on the air? Mind you that Bill Cosby has never been convicted of anything.
I am sure that NBC stands for "Nothing But Consistency." I am sure that NBC's seeming double standard has nothing to do with race, especially when one actually admitted to wrongdoing and the other has consistently denied wrongdoing.
What's even more amazing is that the very year Albert was charged with a sex crime (1997), he was inducted into the basketball hall of fame and has subsequently received similar types of awards since. A few months ago, Albert received a new contract from TNT, his current employer.
Again, juxtapose that with the treatment of Bill Cosby. Without being convicted of anything, NBC cancelled his new show before it aired on TV, Spellman University returned Cosby's $ 20 million gift, and several schools rescinded honorary degrees given to him.
Am I the only one who is noticing this double standard? One person was convicted in a court of law of a sex crime, but pleaded down to a lesser charge and was rewarded with new contracts, lifetime achievement awards, and given the good housekeeping seal of approval by corporate America.
The other person has been convicted of nothing and his whole life's work and reputation has been stripped from him. In my best Fat Albert voice, "Hey, hey, hey, I got something to say."
How can a man who has done so much good for so many people for so long not be treated better than a convicted woman abuser? This is truly America in Black and White and there is nothing funny about it.
Staff Writer; Raynard Jackson
Mr. Jackson is also founder of a political and industrial consultant firm which is based in Washington, DC; Raynard Jackson & Associates.