Edward Waters College "TIGERTALKS EXPERIENCE".
(ThyBlackMan.com) "Every Tiger has a passionate and important story that needs to be respected and shared." Prof. William Jackson
"TIGERTALKS EXPERIENCE" is modeled after TEDTALK and TEDX being held nationally and internationally. The goal is to provide a platform so students at Edward Waters College in the Educational Technology course within the Education and Urban Studies Department at Edward Waters College. Other academic disciplines of learning are encouraged to participate and display their growing skills and talents in storytelling, poetry, spoken word, and blogging; taking audiences on a lyrical and intellectual journey.
Students in the Educational Technology class have been blogging about several TEDTALKS and TEDx events, in the course. As a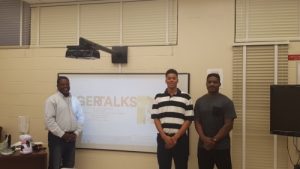 national, international blogger and speaker my intentions as an instructor, to provide my students a true experience with
them as the creators and presenters of content. The exposure provides students an opportunity to share their passions, interests, skills and abilities in a semi-professional, intellectually stimulating and academic environment.
Many students are experiencing this platform for the first time on a stage of intellectual engagement combined with technology. The exposure provides students an opportunity to develop and produce content instead of just being consumers. Students attending
HBCUs must understand and learn the process of producing, to be "thought leaders," content creators, and innovators in tech and oration.
Students can share their Social Media platforms to present their content on: Twitter, Facebook, WordPress, LinkedIn, Instagram, Tumblr and other Social Media sites that encourage interaction and engagement. This provides a platform to share content that
is motivational and inspiring. It promotes intellectualism on a level of engagement and proficient articulation.
It is hoped that other HBCU's will work with Prof. Jackson and Emma Kent of the Library Services at Edward Waters College to expand these dynamic opportunities for engagement and content creation taken to another level of intellectualism and creative innovation.
The first "TIGERTALKS EXPERIENCE" was an opportunity to begin the process of preparing students to speak, to share information verbally that many have not had the opportunity to perform.
"TIGERTALKS EXPERIENCE" are a sharing of ideas, in the form of powerful talks, discussions, dialogues that are 15 minutes or less. The exchange is an opportunity to share life experiences to further encourage discussions on academic, social, business, cultural and economic issues that because of time restraints cannot be shared in a
classroom setting.
To better understand what TIGERTALKS are a definition below developed by Prof. Wm Jackson, this wonderful opportunity of oratory engagement are shared.
"TIGERTALKS" are short, engaging and intellectual talks (15 minutes or less) where students speak on their passions, talents, course of study, community engagement, future aspirations, importance of HBCUs and other relevant conversations from their experiences in life and interaction with others." Prof. William Jackson
Edward Waters College "TIGERTALKS EXPERIENCE" is just the beginning and will seek to expand on the campus and inspire others on a speaking format: Poetry, Spoken Word, Storytelling, and Personal Experiences.
Edward Waters College "TIGERTALKS EXPERIENCE" is just the beginning of this endeavor to expose HBCU students to blogging, speaking and the engagement that technology provides. The goal is to expand and inspire other HBCUs to create their own model and collaborate with others in academia, business, medicine, commerce,
finance and other areas. The first speakers were:
Mr. Charles-Eddie Smith of Varnville, SC and Mr. Prince Braynen of the Bahamas.
Blog for Mr. Smith – https://chiefchuckblog.wordpress.com/
Blog for Mr. Braynen – https://pbraynen.wordpress.com/
These two young men are both academically and athletically talented. What a great start to the goal of a foundation of "TIGERTALKS EXPERIENCE" setting the foundation for excellence.
More information can be found Educational Technology and Social Media Blog Site:
http://ewceducationaltechnology.wordpress.com/
Staff Writer; William D. Jackson 
Find out more about this talented writer over at; OCS For Education.