Education Advice: Simple Steps To Submit A Sublime College Research Paper.
(ThyBlackMan.com) The majority of college students will submit a research paper during their final year of education. This will usually be the basis of their final grade. A good paper can lead you to graduate with the highest honors possible. A bad one can let you down, and make all of your hard work seem irrelevant.
In this piece, I have some simple steps to help you submit the best college research paper possible:
Settle On A Compelling Topic You're Passionate About
The first step is finding a topic you're passionate about. It's a lot easier to research something when you have a passion for it. Don't try and research something just because you think your tutors will like it. If you don't feel a connection with your research, you won't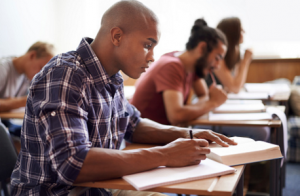 turn in a good paper. I suggest you use your summer break thinking about the research topic you want to choose. Then, when you return for your final year, you've got your sights set on what to do.
Collect Various Credible Sources
Naturally, the research you carry out will be very important. This relies on you finding various credible sources to contribute to your argument. What you don't want to do is have too few resources. The more, the merrier, and it will help illustrate your point more effectively. Furthermore, you need the sources to be authentic. Don't get all of your arguments from Wikipedia; this won't look good. It's likely you'll spend hours in libraries looking through textbooks and pouring through information. Collect all of your sources before you start writing anything. Then, you can use them to piece the puzzle together.
Proofread Over And Over
When you're confident your research is finished, you need to proofread it. Remember, this is possibly the most important piece of work you've ever submitted. You spent at least three years in college studying hard to get you to this moment. Don't let your research paper let you down by having silly spelling mistakes and grammatical errors. Read over it, put it through editing apps, and even consider professional manuscript editing services too. Do whatever you can to ensure you submit a perfect final piece. Then, you have one less thing to worry about as you won't lose marks for how it's written.
Do All Of This Well Before The Due Date
The final piece of advice I'll give you is to do all of the above well before the due date. The worst thing you can do is waste time when writing a research paper. Before you know it, the submission date is upon you, and you're cramming like crazy. All this means is that you start rushing things and won't submit a high standard paper. Start your preparations months in advance, with the aim to finish things a week before the due date. Doing this allows you a week of breathing space, and there's no worry of missing the deadline.
If you're writing a research paper, I advise you to follow the steps above. Hopefully, it should make life easier for you, and you can leave college education with a great degree.
Staff Writer; Craig Clinton