Just for the Guys: A Mini-Guide to Men's Sleepwear.
(ThyBlackMan.com) If you're a distinguished man, you know details count, from how you clip your fingernails to what you use to hold your money.  Sleepwear is no different; what you wear to bed is an expression and says something about your personal style.  However, there are a number of things to consider.  Do you want to wear a two piece consisting of a matching top and bottom?  Do you prefer long or short sleeves?  Are you "man enough" to sport a onesie?  These questions and more demand consideration.
Two-Piece Pajamas
Traditionally, men have worn two-piece pajamas with a matching top and bottom half.  Found in all types of fabrics, pajama sets, like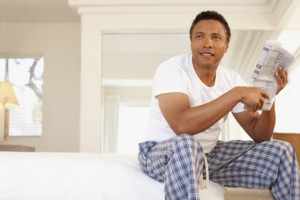 suits, feature a variety of colors and patterns.  The shirt closes via a button and the top usually has a breast pocket along with a winged collar.  The matching pants are drawstring and either have a button in the crotch area or is left open via a slit.  If you're feeling exceptionally classy, you can get a tailor to sew a family crest onto the chest or opt for a monogram.
Night Shirt
If you enjoy old movies, you may have seen a number of actors in a nightshirt.  Popular some time ago, the oversized shirt comes down to about the knee area, and has buttons at the top for adjustment.  Some may feel funny wearing a long, flowing garment around house, especially one that (sort of) resembles a woman's skirt at the bottom.  But make no mistake; men have worn nightshirts for decades and the nighttime choice will continue.
Onesie
Onesies have grown popular with adults in the last decade or so.  Perhaps due to nostalgia or the social media culture (Take a onesie selfie to post to your Facebook, Instagram, or Twitter account!), a number of adults show no shame in wearing one-piece pajamas around the home and to bed.  Perhaps the level of warmth and comfort has something to do with its popularity.  Usually made of fleece or cotton and easily washable, onesie seem to be a decision for nonconformists seeking extreme comfort.  Some onesies even come replete with booties, so there is no reason to worry about cold feet or an added slipper purchase.
Robe or Jacket
If you really want to get fancy or feel like playboy Hugh Hefner, couple your pair of pajamas with a silk robe or satin smoking jacket. The supplement is more for making a fashion statement than added warmth, yet a number of choices do make things warmer, especially in the winter season.  Consider chosen material to match the preferred temperature of the season.  See this page for an assortment of choices.
Fabric
Of course, when considering any of the choices above and beyond, you must consider the associated fabric.  For example, fleece is cozy and keeps one warm in the winter but is a bit extreme for summer wear.  Likewise, silk pajamas definitely make an impression yet they should not be your first choice in the dead of a Michigan winter.
Staff Writer; Allison Taylor