Bucks to honor former HBCU and NBA star Bob Dandridge; will Hall of Fame call next?
(ThyBlackMan.com) Buried beneath recent NBA headlines about All-Star Weekend and the trade deadline was a story about one of the league's most unsung legends. The Milwaukee Bucks announced that the organization is finally going to retire jersey No. 10 worn by sweet-shooting small forward Bob Dandridge. An unheralded fourth round draft pick out of Norfolk State in 1969, the same year Milwaukee selected Kareem Abdul-Jabbar (then Lew Alcindor) first overall, Dandridge helped to make the Bucks an instant NBA power.
A first team All-Rookie selection following the 1969-70 season, Dandridge followed that up with an even stronger sophomore campaign (18 points, eight rebounds: regular season averages), as he teamed with Abdul-Jabbar and Oscar Robertson to lead the Bucks to the 1970-71 NBA title, following a sweep of Baltimore in the Finals.
Nicknamed "the Greyhound," Dandridge averaged nearly 19 points and seven rebounds in nine seasons with Milwaukee, which included three All-Star Game appearances. Following his eighth season with the Bucks, Dandridge brought his respected mid-range offensive arsenal and tenacious defense to the Washington Bullets, a franchise that had never won a NBA title. Dandridge had an immediate impact, as Washington won the championship following the 1977-78 campaign in dramatic fashion, rallying from 3-2 series deficit, to defeat Seattle in the seventh game of the Finals. Dandridge's time in D.C. also included another trip to the All-Star Game in 1979.
About the only thing that could slow Bob Dandridge down on a basketball court was injuries, which began to occur toward the end of his career. However, when his playing days were over following a brief return to Milwaukee, his legacy as one of the best players of the 1970s was firmly established. In a career that saw Bob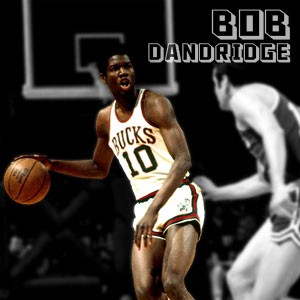 Dandridge win two NBA championships, and make four All-Star Game appearances, his best work was most often displayed in the biggest games, as a 20-point playoff scoring average attests.
The scheduled March 7 jersey-retiring ceremony in Milwaukee is indeed a fitting tribute. However, a strong case also can be made that Dandridge deserves to be enshrined in the Naismith Memorial Basketball Hall of Fame. In making a case for Dandridge, a quick comparison can be made with two Hall of Fame small forwards that faced him on the court—Bill Bradley and Jamaal Wilkes. Like Bradley (New York Knicks) and Wilkes (Golden State, Los Angeles Lakers and Los Angeles Clippers), Dandridge had to blend his talents with superstar teammates (Abdul-Jabbar and Robertson in Milwaukee and Elvin Hayes and Wes Unseld in Washington). While doing so, Dandridge still produced greater individual professional statistics than Bradley and Wilkes en route to multiple championships—a feat the trio share.
The enshrinement of Bob Bradley and Wilkes was aided by outstanding college careers, and this is where the former Norfolk State standout is unfairly slighted for not attending a so-called "major" university. In his senior season at the Historically Black College, Dandridge averaged a whopping 32 points and 17 rebounds, and the competition he faced was in fact "major" enough to prepare him for an immediate starting position in his first professional season.
Finally, any mention of Bob Dandridge is not complete without mention of his stellar character. In contrast to many of today's me-first athletes, Bob Dandridge did not chase stardom or individual accolades. The Richmond, Va. native personified dignity, sportsmanship and teamwork, and it is no coincidence that in his first 10 seasons (before injuries took their toll) Dandridge's teams only missed the playoffs twice while winning roughly 60 percent of their games. So much more than a footnote in the history of basketball, Dandridge's totality was eloquently stated by Bucks Co-Owner Wes Edens, upon the announcement of the upcoming jersey tribute: "As a player, Bob Dandridge embodied everything we want this franchise to stand for: hard work, passion, toughness, and above all else, excellence. This honor is long overdue, and the entire organization is thrilled to finally put his number in the rafters along with the other legends who have helped shape this franchise."
Hopefully the Naismith Memorial Basketball Hall of Fame is listening.
Staff Writer; Scott Talley
This talented journalist is owner of a public relations firm; Scott Talley & Associates, Inc….