Don't become a financial scam victim.
(ThyBlackMan.com) South Africans are falling victim to financial scams – we are the second-most targeted country for phishing scams in the world. Even if you think you are being careful, with so much time spent online, we present fraudsters with many opportunities to draw us into their increasingly sophisticated scams. Here's how to be reasonably sure you won't be their next victim.
Loan scams
South Africans were recently warned about a scam that offered loans to consumers under the Wonga company logo, registration number and NCR number. The emails, claiming to be from Wonga.co.za, supposedly offered loans at unrealistically low interest rates.
Those who responded were asked to provide personal information and deposit money into different private bank accounts, but the victim did not receive the loan funds. (In reality, the only way to apply for cash loans from Wonga is via the Wonga website – never by email or SMS – and Wonga will never ask for any payment upfront for a loan.)
Watch out for these
A recent scam on Facebook offered free gift cards from well-known South African retailers, enticing cash-strapped consumers to click on a link that allowed the scammers access to captured passwords and personal information via spyware.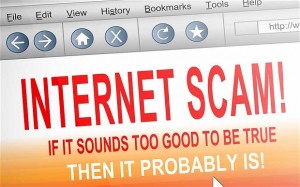 If you do not remember entering a competition or ordering a package, it is probably a scam. If the deal is too good to be true, it probably is a scam. Always check the source of the link. Even if it is from someone you know, a scammer could have hijacked their account and sent it on their behalf.
Don't be a victim
The U.S. Justice Department has this advice for consumers, which is easy to remember using the acronym SCAM.
Be stingy about giving out your personal information. Your credit card company may need to know your mother's maiden name, so that it can verify your identity when you call to inquire about your account. A person who calls you and says he is from your bank, however, does not need to know that information if it is already on file with your bank.
When called and offered the chance to receive a credit card, prize, or other valuable item, but the caller asks for personal data – like your ID number, credit card number or expiration date – ask them to send you a written application form. If they won't, end the call. If you do get an application, read it carefully and make sure it is going to a company or financial institution that is well-known and reputable. Never return the application with your personal information via the post.
Check your financial information regularly, and look for what should be there and what shouldn't. If you are not receiving monthly statements with a list of transactions on your bank and credit card accounts, call your bank immediately. If you're told your statements are being mailed to another address that you haven't authorized, tell the financial institution or credit card representative immediately. If someone has your financial data and has made unauthorized debits or charges against your financial accounts, checking your monthly statements carefully may be the quickest way for you to find out.
Ask periodically for a copy of your credit report which should list all bank and financial accounts in your name, and provide other indications of whether someone has wrongfully opened or used any accounts in your name.
Maintain careful records of your banking and financial accounts. You should retain your monthly statements and cheques for at least one year. If you need to dispute a transaction, your original records will be immediately accessible and useful to the institutions that you have contacted.
Additional protection
Don't allow yourself to be pushed into a hurried decision.
Always request written information, by mail, about the product, service, investment or charity and about the organisation that is offering it.
Don't make any investment or purchase you don't fully understand. Understand what you are buying or investing in. If an investment or major purchase is involved, request that information also be sent to your accountant, financial advisor, banker, or attorney for evaluation and an opinion.
Ask what action you would be able to take if you make a purchase and are not satisfied.
Beware of testimonials that you may have no way of checking out. They may involve nothing more than someone being paid a fee to speak well of a product or service.
What if you suspect a scam?
Open a criminal case with the South African Police Service. If you suspect you've been scammed online, immediately run a virus scan. Mobile phones and tablets aren't immune to scamware, so this applies to all devices. Change your password if you think you have been scammed on a social media site.
Staff Writer; Joseph Jackson