I Hear and See YOU Azealia Banks.
(ThyBlackMan.com) In order for our words to be heard and accepted it's not just a matter of what we say, but how we live. I for one must admit that I am rather tired of seeing young black women defend a position while betraying their own cause. It is not okay to focus on one aspect of "struggle" while behaving in an overall manner that discredits ones argument.
Case Study: Ms. Azealia Banks
Ms. Banks caught my attention as one that was bold enough to speak openly, via interviews and twitter, regarding cultural appropriation. She spoke against the likes of rapper Iggy Azealea for basically using "black culture" via hip hop to make a name for herself; however the causes of the black community didn't seem to be an area of concern. Ms. Banks also attacked veteran rap artist Clifford 'T.I." Harris for supporting this white woman's misuse of hip-hop. I must admit she's bold. Yes, bold and embarrassing. One ought to be careful when indicting someone for misuse of a culture they don't seem to fully respect. Though I appreciate some of her artistic approach I cannot excuse: her over sexualization, constant use of the word b*tch and c*nt to refer to herself and other women, and her open admittance to risky sexual practices.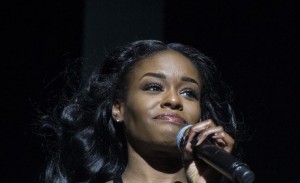 Furthermore, she seems to be very confused regarding white men. In one instance, via interview, she expresses an infatuation with white men: "I date lots of white guys. It's still seen as slightly taboo in African American culture, but I thought, 'Let me put this in your face and tell it how it is." She acknowledges, via Twitter, that the death of black males at the hands of the police anger her to the point she feels "I might have to kill one of these cr*ckers in their sleep!!"
The problem is not interracial dating it what seems to be her confusion within herself. How can we speak against cultural appropriation, racial injustice, and try to "drop knowledge" when that same mouth is venom to the movement.  Ranting on twitter in a manner that portrays black women as angry, uncouth, without self-respect, and childish makes it very hard to hear, or defend, the cultural appropriation argument…or accept anything she has to say regarding black community.
"I very excited and enthusiastic about all these other BLACK things i keep learning about and all i want to do is share." –Azealia Banks
She seems to have found some affection for the greats such as Nina Simone. Maybe an elder could reach out to her to say: Young Sister I see, and hear you. I can tell from your tweets you are reading and searching. With that being said how can you speak to the power of black people and your very presentation is the embodiment of the case against black women? IT is not necessary to attack everyone that has a different perspective to bring to this very discussion, especially when they are a part of our community. As a black woman dedicated to the attaining of knowledge, belief in the power of our people, and a graceful display of the beauty of black women I strongly suggest you reconsider your approach.
We cannot be taken seriously when we make a mockery of ourselves. Part of the issue with hip-hop is activism versus destructive behavior. Azealia Banks is just one artist of many that has an idea of what's happening around her and wants to know more, but like many she is still slave to the mental oppression she rants about.
Staff Writer; Christian Starr
May connect with this sister over at Facebook; https://www.facebook.com/christian.pierre.9809 and also Twitter; http://twitter.com/MrzZeta.