Yes, The Music Industry Hates Black People.
(ThyBlackMan.com) While watching the video for "Hot N****" by  Epic Records' newest artist Bobby Shmurda, I could hear a voice in my head repeatedly cry out, "the music industry hates Black people."
Out of countless amazingly talented unsigned artists waiting for their big break, why would a record company sign yet another half-ass artist whose message is all about death, murder, guns, and more death? It couldn't possibly be about all the money they project making off this Youtube one-hit wonder since the past couple of years have shown us that viral video stars like Trinidad James and Chief Keef don't necessarily translate to real-world superstardom.
Why would music industry executives who are supposedly astute businessmen invest in the type of artists other labels don't seem to have been very successful with? While these rappers may achieve short-term popularity, the amount of free mixtapes, guest appearances, and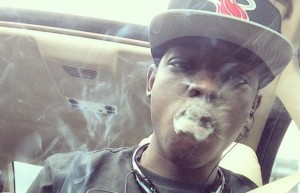 YouTube-to-MP3 music they put out can't be profitable for the companies.
Why would someone like Bobby Shmurda get a major label deal on the strength of one poorly-produced video?  Is it because Beyonce did the Shmoney Dance (Bobby's signature move) during one of her shows? Is it because Jay Z shouted out the dance in a freestyle at a concert? Is it because Drake, Meek Mill, Raekwon (WTF Rae?) and Busta Rhymes co-signed Shmurda?
Why would a label invest in a mediocre rapper who may be "hot" for a minute but will undoubtedly fade into oblivion like so many of his forgettable predecessors? Is it because Bobby Shmurda is an underground sensation who kids in NY have been listening to for the past few months so Epic Records jumped on who they felt might be rap's next flavor-of-the-moment before someone else does?
Or is it simply because the music industry's agenda to promote death and dysfunction to Black youth is bigger than its desire to make money?
Yes, I'm a conspiracy theorist. I don't care how many people ridicule me. I don't care how many "real street cats" call me an out-of-touch Hip Hop purist who doesn't know what today's kids are into. I don't care how many industry execs mock my extreme views and so-called lack of music business knowledge. I don't care how many idiots call me a race-baiter. I don't care how many call me a hater for criticizing a kid I don't personally know without even giving him a chance to shine.
Finish story here;
http://raprehab.com/the-music-industry-hates-black-people/ (—–