Praiseworthy: Dennis Green–Trailblazing coach opened doors for many.
(ThyBlackMan.com) It is unlikely that Dennis Green will ever be enshrined in the College or Pro Football Halls of Fame, but his contribution to the game is undeniable.
A three-time letterman (1968-1970) at the University of Iowa while playing running back and wingback, Green would go on to make a much greater impact on the sport he loved as a coach.
Following a lengthy coaching apprenticeship, which Green began as a volunteer graduate assistant at Iowa and included assistant coaching stints at the University of Dayton, Iowa, the San Francisco 49ers and two stints at Stanford University, he was named head coach of Northwestern University in 1981.  At the time, Green was only the second African American head coach in Division I-A (now called Division I Football Bowl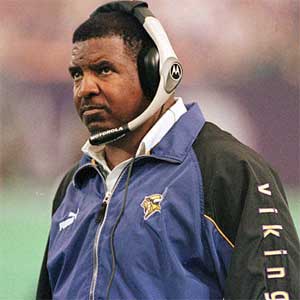 subdivision) history.
In the five seasons before Dennis Green's arrival at Northwestern, the Wildcats posted an anemic record of three wins, 51 losses and one tie.  However, by 1982, Green brought a level of respectability back to the Evanston, Ill. campus by winning three games that season en route to being named Big Ten Coach of the Year by writers and broadcasters.
After a five-season run at Northwestern, Dennis Green returned to the professional ranks and the San Francisco 49ers as wide receivers coach where he would prepare a young Jerry Rice for greatness.   In 1989, Green was once again asked to turn around the football fortunes of one of the nation's top academic schools, when he was named head coach at Stanford making him the first African American head coach in what was then the Pacific-10 Conference.  Dennis Green proved to be up for the challenge and his head coaching highlights at Stanford included a 1990 victory over top-ranked Notre Dame and an 8-3 record during the 1991 season, which saw Stanford win seven consecutive games, the school's longest winning streak in 40 years. 
Green's success at Stanford did not go unrecognized by pro football executives and on Jan. 10, 1992 the Minnesota Vikings hired him as head coach making Dennis Green just the second African American head coach in the modern era of the National Football League.  Fortunately for the Vikings and other aspiring African American coaches, Green was up to the task of being a trailblazer and from 1992-2001 he achieved a record of 97-62, which included four division titles and eight playoff berths.  The high point of his Vikings tenure was the 1998 season when his high-scoring squad led by resurgent quarterback Randall Cunningham finished the regular season 15-1.  A heartbreaking overtime loss to the Atlanta Falcons denied the team from playing in the Super Bowl, but for his efforts Green was named the Maxwell Football Club's Professional Coach of the Year.
A second head coaching stint, this time with the Arizona Cardinals (2004-2006), did not yield positive results, as Dennis Green's teams lost twice as much as they won (16-32).  However, by that point Green had more than demonstrated that an African American head coach could have long-term success at the highest levels of football if given an opportunity.
While making his mark as a successful head coach Dennis Green also provided opportunities for African American assistant coaches he hired, most notably Tony Dungy, who left Green's staff in Minnesota to become head coach of the Tampa Bay Buccaneers and later the Indianapolis Colts, who Dungy led to victory in Super Bowl XLI.  Other former African American assistants from Green's coaching tree who became head coaches include Tyrone Willingham (Stanford, the University of Notre Dame and the University of Washington) and Jim Caldwell (Indianapolis Colts, Detroit Lions).
Green's success as a head coach and coaching mentor was not surprising considering the motto he applies to his daily life:  "Plan your work and work your plan."  And by successfully applying this motto Dennis Green's place in football history cannot be denied. 
Staff Writer; Scott Talley
This talented journalist is owner of a public relations firm; Scott Talley & Associates, Inc….