Starving for Substance on the Big Screen.
(ThyBlackMan.com) I'm not an avid moviegoer. Rarely do I find films that I am just dying to see that will get me off my couch, away from my Apple TV, and headed to the theater. Yet, this past weekend I found myself race-walking through D.C.'s Georgetown, rushing to the 7 p.m. screening of the The Best Man Holiday. I was so excited at the prospect of seeing substantive, affluent, funny and thoughtful black characters on the silver screen that I didn't even want to miss the previews — it was that serious.
The movie was phenomenal, by the way, but this isn't a review piece. It's an inquisitive one.
Why is it that, however infrequent, when black people create a film that is about our community that isn't contingent upon slavery, gun violence, poverty and overt buffoonery, Hollywood and film critics alike are absolutely shocked by how well it does? The headlines reviewing the movie's success at the box office have been down-right insulting. After reading USA Today's "race-themed film soars", and countless "Best Man shocks at the box office," posts, I wanted to scream. Alyssa Rosenberg from ThinkProgress captured my frustration:
But even more telling was the idea, implicit in the headline if not in the piece itself, that a movie with a non-white cast must necessarily have race as its primary subject. By extension, the suggestion is that the lives of people of color are inflected first, and perhaps only, by race, rather than by gender, sexual orientation, class, love, ambition, jealousy, rage, or even pure, manic-pixie spontaneity.
To insinuate that a narrative which casts black people as its leads is steeped exclusively in race, and that our interests in other areas that constitute our complete identity (such as gender, sexual orientation, relationship status, etc.) are non-existent, is to conclude that our life experiences are "simple" at best and "naïve" at worst.
After years of being inundated with poorly written and executed Tyler Perry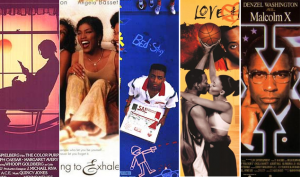 "movies," I forgot how starved I was for black cinematic excellence that excels beyond a re-imagined poverty narrative.
Director Malcolm Lee delivered exactly what too many of us have been hungry for — a reflection of friendships, relationships, and ourselves that isn't submerged in trauma. Why do white audiences get constant affirmation of their complex experiences and existence while black moviegoers are subjected to the same old narrative?
When interviewed on Oprah's Next Chapter Spike Lee remarked: "Until we are at the table with the ability to green-light films, there will be a continued dearth of [good] black films." Unfortunately, no matter the industry, we are constantly fighting for a seat at the table.
As our country becomes more culturally, economically and racially diverse, we need films that will better represent our changing demographics and multitude of experiences. Attention to diversity isn't just socially responsible, it's also good for business, and definitely worth racing to the cinema for!
Written By Danielle Moodie-Mills
Official website; http://www.twitter.com/DeeTwoCents