Rapper Kendrick Lamar's Stance Against GQ Racism Makes Him My Rapper of the Year.
(ThyBlackMan.com) The rapper Kendrick Lamar was already making headlines for laying out some of the dopest rhymes in the world of hip-hop.  A pure lyricist at heart, he was breaking norms and challenging the industry, setting new bars for artists who've become accustomed to getting rich by repeating toxic nursery rhymes.  That's what made me like him.
But his latest move, standing up to racial stereotypes presented by interviewers at GQ Magazine made me actually say, "I love this brother, he might be one of the greatest."
Unlike other talented lyricists like Jay-Z, Lamar is seeking the greatness of Muhammad Ali, who is remembered more for what he did outside the ring than what did inside it.  If you'll recall, Ali stood on principle and dignity, and didn't dare let his entire life be defined by the size of his paycheck.
According to hip-hop writer John Henry at Reason4Rhymes.com, Kendrick Lamar and Top Dawg Entertainiment CEO Anthony "Top Dawg" Tiffith took offense at some of the questions they were asked during an interview for the "Men of the Year" issue at GQ Magazine.
According to Henry:
In the interview, Tiffith is referred to as TDE's "Suge Knight" and the artists as "baby Death Row".  Marsh seemed to be astonished that during his time with TDE's artists that they weren't smoking weed, guzzling 40?s and chasing women.  Probably the most scathing statement was Marsh's assessment of Lamar's family and gaining control over "his neighborhood's warped commitment to adolescent pride."
Henry, who is a veteran of the hip-hop music industry, goes on to explain why the comparison to Death Row and Suge Knight was so offensive:
GQ and other "mainstream" publications are going to have to learn that if they are going to cover hip-hop culture then they need to have someone who is truly entrenched and participates in the culture with a deeper understanding than what is rehashed in mainstream media.  Marsh was insensitive to the fact that the Suge Knight and "baby Death Row" comparisons carry a violent stigma that has resulted in the loss of two of Hip-Hop's greatest artists and that is NOT what TDE represents.
When I read about Kendrick Lamar, Tiffith and the rest of the team's reaction to the GQ interview, I was both impressed and astonished.  Not only did the organization speak out against the implicit racial stereotyping of the GQ interviewer, they cancelled Kendrick Lamar's scheduled appearance at the party the magazine was hosting for its "Men of the Year" honorees.  I couldn't have been prouder of these brothers for representing the essence of true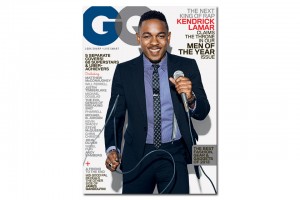 manhood.
You see, the violence in hip-hop has long been a source of weighty entertainment for white America.  Black men come off as dangerous, trendy and self-destructive, giving us a mystique that earns us economic rewards, like monkeys having spare change tossed at them as they fight to the death in front of a live audience.
The "money over everything" mentality effectively convinces too many young men that anything should be sold to the highest bidder, including your health, your dignity and your future.  That's the reason we have so many artists willing to stand before arenas full of white people, dumbing themselves down and referring to themselves as "n*ggers in Paris." The so-called "respect" these individuals might feel they are receiving from the audience is similar to the "respect" that men might give to a stripper or prostitute, who is going to be well-paid as long as she keeps shaking her "assets" for the crowd.  But at the end of the day, the audience neither cares about this woman or sees her as a complete human being…..similarly, many hip-hop artists have become the high-paid hoes of entertainment.
Those who know the history of hip-hop and have spent even a second in "the hood" realize that the glorification of violence and self-destructive behavior among African American men is NOT a game. When you've had a best friend get shot in the head (as I did right after Tupac was killed) or a relative get 150 years in prison, it reminds you that the consequences are real, and the outcomes should not be celebrated.
Kendrick Lamar has seen the atrocities of South Central Los Angeles up close, and anyone who has been through such a thing understands that the glorification of war only leads to even more sadness and despair than our community is feeling right now.   Instead, Kendrick Lamar is part of a new generation of artists who are choosing to renew the essence of peace and self-respect for a community and genre that have lost their way.  Suburban negrophiles who fantasize about "gangsta sh*t" in the hood don't have a clue about just how hurtful this pain can be.  It's time to get away from all of this and rebuild our communities.
With this act of selfless courage and conscientiousness, Kendrick Lamar has sealed his spot as my rapper of the year.  Long live King Kendrick…..GQ owes him an apology.
Staff Writer; Dr. Boyce Watkins 
Dr. Boyce Watkins is the founder of the Your Black World Coalition.  For more information, please visit http://BoyceWatkins.com.