Why is the media so desperate to erase Singer Janet Jackson from history?
(ThyBlackMan.com) It seems the media is desperate for Janet Jackson to quit the industry. Despite Janet and her team admitting on various occasions that a new album is in the pipeline, the media just refuses to acknowledge it.
Instead they repeat the same mantra: Janet has quit the industry, gone into hiding, converted to Islam and refuses to see her family – with gossip about her brothers begging for money and her suffering from severe OCD.
In reality: Janet is recording an album, has visited her family last month (even supporting her mother Katherine to court), has always supported her brothers when necessary (though they are in no need of support right now, as they are on a very successful tour) and showed no sign of OCD when she was recording (even putting her feet on the table where she would later be mixing on wearing shoes – no OCD sufferer would do this.) No word on her converting, but Janet has always been a very strict Christian, with her book True You referring to biblical quotes, praying and bible reading quite a lot. You don't change something so important to you in the blink of an eye.
Janet told Billboard last month: "I am working on a new project now." Soon after Miss Jackson was pictured at a writing session with producer Tommy Parker and Ian Cross, the A&R and Producer Engineer at Janet Jackson Music. Parker is also a writer/producer at Darkchild Records.
For some reason the media seems to have always resented Janet's success in the 80?s and 90?s, when her rise started with "Control" they immediately claimed it was just because of her famous brother, Michael. A very silly idea,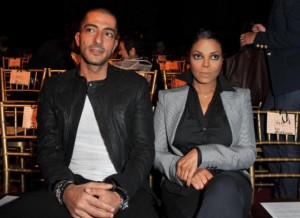 seeing her first albums never charted and if you were to go by this rule all his brothers and sisters should have had massive hit records.
Then they started comparing her to Madonna and critics seemed to love explaining why Madonna did things better than Janet, despite Janet often scoring bigger chart successes than the ambitious blonde.
Before you continue reading realize that I have nothing against Madonna, but there are some facts that need to be told.
Still, the critics got their way, after 2004 and now take great pride in belittling Janet's (in their eyes) lack of success. To some she is even seen as a "has been". A very successful "has been": her last album debuted at number one, and so did two of her recent movies.
Recently it has become clear that they are effectively trying to wipe her out of musical history. The fact that without her artists like Britney, Rihanna's and Beyoncé's would not exist is alien to them.
The Superbowl is always cited as the reason of her fall. But they forget: She played THE SUPERBOWL. There is a reason she performed at the Superbowl as she was one of the biggest female singers in history in music up until 2004. You can divide her career between the time leading up to the Superbowl and the time following it.
But come on, people. Of course Janet's decline had nothing to do with a "nip slip". Yes, it was a "wardrobe malfunction" in front of a massive audience, but should it really be still be important 10 years after? Many female artists fell out of their dresses at public functions, even at kids award shows. And come to think of it, if a nip slip could cost you a career Madonna wouldn't have had a career in the first place.
It seems as if the industry was always hoping for an incident like this, so they could at least wipe one Jackson from history.
Look at the dates: the allegations towards Michael started in 2003 with the court case in 2005, discrediting his sister the year in between was obviously part of the plan. They would have found a way to do so without the incident. Janet was immediately blacklisted, but not Justin Timberlake, whom was also part of the act.
The only reason "Damita Jo", that followed the incident, sold less, was due to lack of radio and MTV support and promo, which was due to her Superbowl performance. It was clear that the aftermath of this would be used to taint the singer ever since.
The second album following "Damita Jo", "20 Y.O." proved this, suffering again from lack of promo and continuing boycott of her music on radio and TV.
When "Discipline" came along they had to ease on the boycott a little and the result? Her 6th number 1 album, making her the only performer ever to have 6 albums debut at number 1.
Despite the media ignoring and ridiculing her, Janet Jackson still managed to sell millions and did a very successful tour. Still the media treat her like she's nothing. They purposely ignore her.
Some claim that she was too old to be sexy anymore. Madonna is walking around in nothing but suspenders aged 55, Janet is 8 years younger.
During the years before The Superbowl Janet and Madonna were seen as equal. But after the Superbowl Madonna suddenly pushed forward as the biggest female singer of the 80?s and 90?s. It was as if everyone had been waiting for Janet to slip up. Janet Jackson had paved the way for many, but everything that should be rightfully accredited to her (and in some instances Whitney Houston) now went to Madonna.
It has now gone to the point where Madonna might as well have been the only female singer in the 80?s and 90?s until Britney Spears, JLo (discovered by Janet) and Destiny's Child came along.
For those that don't realize, Janet Jackson is a true artist whom changed the music and music industry. Janet actually spent much more time at the top of Billboard Hot 100 then Madonna. Her longest chart score was "That's The Way Love Goes" 8 weeks at the top of the chart, Madonna's was "Take A Bow" 7 weeks.
Janet Jackson is the only artist EVER to have 7 Top 5 singles from one album "Rhythm Nation 1814? and biggest debut tour ever with 2,5 million tickets sold. She was also the first one who used hands-free microphone in 1986, only later adopted by Madonna.
Janet Jackson also won more American Music Awards then any other female artist and was named as the first MTV Icon in 2001.
She also had 3 #1 movies and one #1 bestselling book. She was the first artist with #1 singles in the 80?s, 90?s and 00?s at the Billboard Hot 100.
Her dance routines are still "borrowed" by many new female singers – while Rihanna has based most of her image by recreating several of Janet's looks reworked S&M style.
From Britney to Ciara, Janet Jackson inspired half the pop acts from the last decade and re-defined what it meant to be a female artists.
Still it looks like she will never truly be recognized for what she did. She said in her book True You that for the last few years she suffered from racism in the industry, saying "doors that had opened for others were closed in my face, just because of the color of my skin. (…) Today's racism is more disguised and subtle. But it's there – and it hurts on many levels."
When Whitney Houston died last year her career was at the point where "the industry" now seems to want Janet Jackson to be. Her chart records seemed forgotten and she was seen as "a joke". Yet when she died she was once again seen as one of the biggest stars of the 80?s and 90?s -for a while at least – and everyone was suddenly inspired by her again.
It would be sad to see the same thing happen to Janet.
Staff Writer; Dannii Cohen
One may also connect with this talented comedian via Twitter; Divinevarod and Facebook; D. Cohen.