Still Standing… Happily Ever After…
(ThyBlackMan.com) Peace Family,
BIG shout-outs to Brotha Lamar & his Queen Sista Ronnie, for their
efforts to promote the most important element in our communities,
Marriage.  Debate this if you will…history demonstrates that we are
all better-off in traditional family units, and this Cool Couple has created
a wonderful website "here" that's loaded with very useful information.
Check out their movie trailer "here"…and the official website "here".
Today is also "Black Marriage Day" all of the details can be found "here".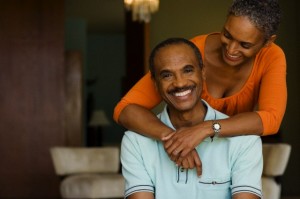 BIG shout-out to my Community Mother Sis. Fredrica Bey and the Sistas of WISOMMM for introducing this national event & organization to the greater Newark Community way back in 2008 when my son's mother & I renewed our wedding vows with several other couples in a beautiful ceremony…"pics here" .
I know that many of us are not married, but we should still encourage those of us that are; remember we are all connected and at this point in our existence, should know that "I am because we are, and because we are…therefore I am". 
As we continue to look for ways to improve ourselves, and our communities, we must recognize that all of our challenges as a people can be linked to our "broken" homes, and what defines our homes as "broken"?  The absence of our fathers.  Single mothers, we love you and appreciate the thankless work that you do on your own, but you were not designed to provide everything your children need; our fathers in our homes are critical for a balanced development. 
Family, just "imagine" if we all grew-up in homes where we watched our parents talk & laugh, sing & dance, hug & kiss, work & create, and yes every now & then fuss & fight…we would've all benefited from the masculine & feminine energy that's required for a balanced, full development. Imagine how much more awesome we would be as a people?  I'm convinced that if we can fix our broken homes, then EVERYTHING ELSE will fall into place.  
Here is Bro. Lamar & Sis. Ronnie's other needed movie…"Happily Ever After"
Long…Live…BLACK…Love, and let's all FIGHT to build & save our Families!
Staff Writer; Bro. Jay