Black Americans Betray Forefathers with use of the N-word.
(ThyBlackMan.com) When Samuel L. Jackson sat down with film critic Jake Hamilton to discuss Quentin Tarantino's  Django Unchained , Hamilton had a question that he wanted to ask Jackson relative to the n-word. But Jackson, who plays a Sambo, Uncle Tom prototype in the film, refused to answer the question unless Hamilton actually said the word "n**ger" in its full enunciation—and not a censored, more politically-correct, less offensive metaphor of the term. After Hamilton refused to say n**ger several times, Jackson retorted: "We're not going to have this conversation unless you say it." The nervous Jake Hamilton still refused to be coerced into saying the vile and sinister term. Jackson finally relented and asked: "You want to move on to another question?"  A deeply-relieved Hamilton responded affirmatively.
Any self-respecting Black/African American who is proud of him/herself and their ancestry is incapable of seeing him or herself as a n**ga/n**ger, and would become appalled almost (if not certainly) to the point of physical contest if anyone referred to them as such. It is because this type of enlightened, self-dignified individual has transcended such an inferior state of mind, and now, instead, owns the rightful higher perception of self and toys with no one who approaches them at any other affirmed level of understanding. On the other hand, only an Uncle Tom sellout and/or ignorant inferior-minded individual lies fully relaxed and engulfed in the idea of being a n**ger/n**ga, and finds it humorous and acceptable to encourage others to the same.
Lisa Lampanelli, a white stand-up comedian and insult comic known for her racy and controversial style of comedy—same as Chris Rock and Katt Williams, recently tweeted on Twitter: "Me with my n**ga @Lenaham of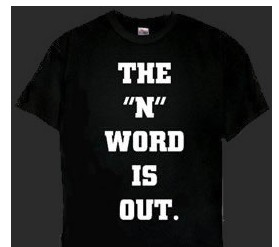 @HBOGirls – I love this beyotch!!" (sic)
The Black community understandably so was outraged and all up in arms about Lisa's blatant and contemptible act. But, in retrospect, Black America's response is also hypocritical, profoundly irrational and infantile.  Black America's actions, which shall be referred to as the Jackson Syndrome, on one hand unsoundly gives everyone in the universe a pass to use the n-word, but then when someone outside the Black community uses the word, African Americans have the audacity to become indignant. Truly, something unnatural and abnormal exists when it comes to this scenario; this line of thinking is tantamount to an individual throwing a rock through someone's window, and then when someone throws a rock back into that individual's window, they cannot understand how something of that sort could have come about.
The stage has been set for some time. Just dating back to as recently as Michael "Kramer" Richards and Don Imus, to currently, nothing has changed.  The alarm was sounded back then, but evidently Black America was not listening, failed to pay attention to the significance of these acts, or was simply indifferent to the matters. Black America must wake up and realize that even small pebbles—if thrown often enough, long enough, and with enough force—can have significant, irreversible effects. Situations that seem to be one-off's and carry no impact at all will eventually be the exposed Achilles tendon that brings down the black community once and for all.
Black/African Americans continually refuse to hold one another accountable for their own actions—thinking nothing of always pulling a Jackson Syndrome, and continually come up with something asinine to support use of the n-word. They go so far as to say that it's okay or acceptable for blacks to use the n-word, unacceptable for non-blacks to use it, but then all at the same time encourage others to use it ANYWAY through their own use of the term in daily interactions, music lyrics and other forms of entertainment.  If someone was to create a situation comedy based on the actions of Black America and its use of the n-word, it would make the all-time ding-a-ling list.
This is the 21st century but yet racism still exists, and it seems as though Black/African American proponents of the n-word insist on feeding the flames of racism by promoting, marketing and commercializing the term. Truth be told, their use of the n-word keeps the hate, inferior-superior mindset distinction, and inequality and racial disrespect at the forefront of everyone's minds that the term long ago was created to represent. Recently, a white passenger on board a Delta Airline flight was annoyed by a crying black child sitting next to him on his mother's lap. The irate passenger had the unmitigated gaul to reach over and slap the child in the face, calling the child a n**ger in the process.
Everything about the passenger's actions was unacceptable, but he did it because he felt he had the right to do so. This proves the point that so long as the Black community continually disrespects itself, others will continue to view the collective black community as inferior and will handle the group of people as insignificant, non-humans they can treat any way they see fit at will…that idea of careless treatment sounds a lot like the real definition of a "n**ga". The word n**ger/n**ga is linked to a racist past and that is NEVER going to change. To entertain the ridiculous idea that the context of this word can be changed—let alone the desire to want to even try—is ludicrous and asinine at its best. The context of its history is going to forever remain intact.   
Many twisted and irrational arguments have been advanced in a feeble attempt to justify use of the n-word.  One of which is that those who fight against its use live in the past and are unable to let go of it, while proponents of the term say they have freed themselves from the past and given the n-word a new meaning.  The truth of the matter is those proponents of the term will go to any length to cover up their act of ignorance for their use of the vile word. Their justifications for use of the term shows that they are in DENIAL about all that took place relative to the sinister baggage that comes along with this word.  If any argument can be made, it should be that proponents of the term are mentally incapacitated and too inertia to overcome their use of it.
Black America's present day use of the n-word is symbolic of an 18th century slave mentality and has no place in this 21st century for liberated-minded people. Descendants of those victimized and dehumanized by this pejorative term who want to keep this word alive in this 21st century by embracing it are committing blasphemy to the sacred memories, struggles and sacrifices of their forefathers. 
As a GROUP, the non-use of the n-word should be a no-brainer. Black/African Americans should ALL be on the same page about this because, collectively, whenever that word is openly used by any person of color, it serves as a reflection on the entire race of people. No matter whose mouth—black or non-black—the n-word idiom flows from, nothing cerebral, honorable, dignified, prideful or self-respectful exists from being submissive to and tolerant of its use.
While many in the Black community work to try to become a once-again united, self-respecting race of people with a positive perception and conviction of self within and without the community, others have sold out at the expense of the collective group. As this internal conflict wages within Black America, slick-teethed businessmen like Quentin Tarantino are laughing all the way to the bank with his highest grossed money-making movie ever. Offering a very veiled perception of slave life and a million and one more ways to allow the n-word term to roll off one's lips, Black America was left with a feel good moment about a make believe Django's prowess who rides off in the sunset with his woman after ethereally shooting up a bunch of white folks.  Where was the real homage paid to the Black/African American and his survival of a gargantuan struggle?
Taking its cue from the music industry's global promotion, marketing and commercializing of the n-word, the door is now open for more such films to be made once again using Black America as sacrificial pawns and all with Black America's approval.  Black/African American forefathers have to be rolling over in their graves with utter disgust at the behavior of their descendants. 
Staff Writer; H. Lewis Smith
This talented brother is the founder and president of UVCC, the United Voices for a Common Cause, Inc. ( http://www.theunitedvoices.com );  and author of "Bury that Sucka: A Scandalous Love Affair with the N-Word".
Also follow Mr. Smith on Twitter: http://www.twitter.com/thescoop1.