How Can Parents Help With Violence Prevention In Urban America?
(ThyBlackMan.com) Violence seems to be on an un-ending streak in cities such as Chicago, New York, Los Angeles, and Detroit.  Parents would do well to partner with successful gang intervention groups such as CeaseFire. The organization has won national acclaim and accolades as a viable gang intermediary.  Chicago Mayor Rahm Emmanuel has recently contracted the group to provide much needed community support.  And that is precisely CeaseFire's goal. By hiring and extensively training individuals who were previously deeply involved in the gang networks of their respective hometowns, CeaseFire initiates trust and change on a community level. In the face of criticism that these individuals are unstable, CeaseFire boasts that relapse is incredibly rare, with only 2 out of the 600 people hired over the last 12 years having been convicted.
The success of CeaseFire is illustrated through the increasing attachment to peace demonstrated by members of each affected community. Merchants have signs in their windows celebrating the days since the last shooting, and signs across towns read "Stop Shooting, Start Living," and "Don't Shoot, I Want To Grow Up." Mr. Tio Hardimon is Director/contact for CeaseFire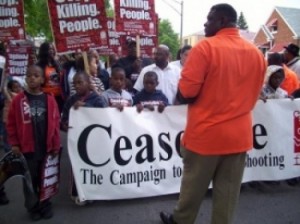 Illinois.
An article published on July 23, 2012 by Fox News Latino provides some statistics for crime in the city of Chicago, stating that there were 259 homicides during the very first six months of the year. As 44 of these victims were Latinos, the Latino organization EnlaceChicagohas increased its efforts to stop violence. The director of the organization shared that in the 1990s, about 30 to 35 violent deaths would occur a year, and last year, and there were 15 violent deaths in a La Villita (Little Village), a neighborhood inChicago, alone.
The organization calls for an emphasis on school for children, not gangs, and creation of school programs for children more prone to becoming an offender or becoming victimized. This type of work is certainly needed nationally, however, children go home to their parents. They see their parents more than they are in school, and learning behaviors and essential tools that a child carries out into the world with him or her are passed down by parents; therefore, more responsibility in the home ought to be enforced in order to bring about more significant change.
Mothers and fathers, to protect their children from both victimization and being victimizers, ought to take steps towards creating a safe space for their children, know who their children know and are friends with, as well as make sure to be alongside their child if they feel that their child could risk being a part of a dangerous situation. For instance, The Wall street Journal reported onJuly 23, 2012that Lloyd Morgan, a little boy, was playing on a playground in the Brox right before he was shot in the head by two gunmen firing from behind the two towards an adjacent basketball court.
The mother suffered no injuries. This mother was present at the time of her son's fatal playground session, and, though there is no evidence to show that she was not paying as best attention to her son as she could, this example shows that even being present and aware of surroundings is not enough when it comes to protecting a child in some dangerous parts of town. Sometimes, even more precautions ought to be taken.
A later example from 2008 that parents can learn from is when 17-year-old Jamiel Andre Shaw, a high-schooler, was shot to death because he did not answer when someone asked him what gang he is in. His mother had to fly in from duties inIraqto bury him. This type of atrocity should not be happening, especially within the youth. It is, of course, undeniable that the help of communities and schools is in need, but parents need to be fully informed about where it is their child is going to school, work, play, etc. This is vital to know what type of people their child may be facing every day and what type of environment is influencing their child when he or she is not at home under their wing. 
In April of this year, the U.S. Attorney General's office held a hearing as an initiative to develop policies to help children being victimized or who witness victimization around them. Detroit's police chief and former Detroit gang member turned community advisors as well as Justice Officials worked on this initiative in Detroit. As much as these type of efforts are also more than welcome to take a stand in ending violence streaks in cities like Detroit, New York, Los Angeles, and Chicago, parents too must come forward and take a stand because the future is in the hands of the youth and parents have high levels of control over what their children are and are not exposed to in the early years. It is unfortunate to live in a society where the youth is involved in gangs and violence, but parents must accept and take responsibility for the facts of today.
Staff Writer; Stanley G. Buford
Feel free to connect with this brother via Twitter; Stanley G. and also facebook http://www.facebook.com/sgbuford.