Floyd Mayweather Jr, 50 Cent – Same as Tupac/Mike Tyson Friendship?
(ThyBlackMan.com) You may have read about the decision of the rapper 50 Cent (aka Curtis Jackson) to jump into the fight promotions business.   Observers are stating that it is a strong possibility that 50 Cent made this move so that he could work with one of his best friends, World Champion Floyd Mayweather Jr.  Yeah Floyd Mayweather Jr. is astonishingly quick and arguably the greatest boxer on the planet.  With 50 Cent being a brilliant businessman and possibly the greatest self-promoter on earth, it's hard to imagine that the partnership can be anything but extraordinary.
Another thing I like about the Mayweather-Jackson alliance is that it allows the massive amounts of money being made in the fight game to stay within the black community.  While a black man can screw you just as quickly as a white guy (see Don King), at least this situation allows for black families to be fed from the talent of black athletes.  This contrasts with what I hate most about the NCAA, the most exploitative free labor scheme in America other than the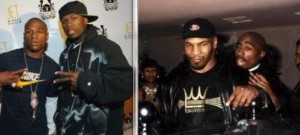 prison industrial complex.  Moves like the one by Floyd Mayweather Jr and Jackson show that brothers are starting to understand that the real money makers in sports are not the guys on the field;  actually, they are the guys in the back office who went to graduate school.
When I see the budding friendship between 50 Cent and Money Mayweather, I am reminded of the consistent parallels between the worlds of hip hop and sports for black males in America.  I think about the close friendship between Jay-Z and LeBron James, and other alliances that remind of us how these two worlds overlap and formulate this awkward, sometimes self-destructive, hyper-masculine pseudo-culture that is defined by shooting hoops, busting caps and busting rhymes.  When there is a rapper at the club, he may very likely be tailed by an athlete or two, and between the two of them are the scores of nameless wannabes who just enjoy hanging around (aka.  NBA player Tony Parker getting cut in the eye at the brawl between Chris Brown and Drake).
When I see Floyd Mayweather Jr hanging out with 50 Cent, I am reminded of another intriguing friendship between the late Tupac Shakur and Mike Tyson.  2 Pac and Iron Mike were very similar to 50 Cent and Floyd Mayweather Jr:  They both had a mutual respect for the other man's heart, strength and charisma, and they also seemed to have a legitimate bond built on common struggles to overcome a great deal of adversity on their climbs to the top.  Also like Floyd Mayweather Jr and 50 Cent, they had trouble with the law.
We know how the story of Tupac and Mike Tyson ended.  Both of them went to jail for long periods of time, and both of them tried to make a comeback.  One of them died physically and the other died both spiritually and professionally.   That which could have been legendary instead ended up extraordinarily tragic.  The inability to make good decisions and overcome personal demons ruined both of these men and the moment that could have lasted forever was as fleeting as a one night stand.
When I see the brilliance and skill of 50 Cent partnered with the amazing talent of Floyd Mayweather Jr, I see tremendous potential.  I am especially impressed that they went a step further than 2Pac and Mike Tyson and actually translated their friendship into a business relationship.  But I am also disturbed that their lives can sometimes be filled with the kind of drama that can only be created by the cultural tornado of the African American male:  Where it seems that you're more likely to end up dead, in prison, or in some other unfortunate situation because you're engaging in unhealthy responses to the dysfunction all around you.  Floyd Mayweather Jr's stint in jail right now, which threatens to ruin his entire career, is a perfect case-in-point.
I hope that when Floyd Mayweather Jr gets out of jail, he finds a way to stay out.  I pray that these men can balance their natural bravado with the ability to make decisions that are going to sustain them spiritually and financially for the rest of their lives.  I don't want  Floyd Mayweather Jr. boxing until he's 45-years old and giving himself brain damage so he can pay the IRS, get out of bankruptcy and pay off five different baby's mamas.  I don't want to hear that 50 Cent was shot on his way out of a night club after a fight with a gang member hanging out with a rival from another record label.  Instead, I want to hear a story about how these young brothers at the top of their games went on to have amazing careers, growing old with as much style and class as they had when they were young.
The story of 50 Cent and Floyd Mayweather Jr must end better than the one about Tupac and Mike Tyson.  We've got to take our game to the next level and continue to think in a more strategic and disciplined fashion.  I wish these men the best of luck in their new venture and hope that Floyd Mayweather Jr. knocks a few people out in the process. But most importantly, it is the battles outside the ring that are going to be the most challenging, and they have to be sure to win those too.
Staff Writer; Dr. Boyce Watkins