Christmas, now Kwanzaa It's About Time…
(ThyBlackMan.com)   We measure time by years, but why not call them Christmases? (Doesn't each year end with one?) Christmas is the joy at the passage of time, New Years the sadness at time's demise. But whether we call it the feast of the Midwinter Solistice, Christmas, New Years or Kwanzaa, it's about time…
As autumn wanes and gives way to winter, the days grow colder and shorter too. But we don't dread winter's icy advance. We welcome it, for Christmas comes just a few days after it's begun. Way back when, some thought the lessening light signalled the end of the world, but by December 25th, it would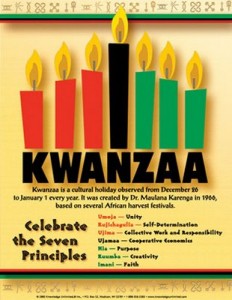 always be clear the days had stopped shortening and were in fact lengthening. And so it was a time for ecstatic joy…
There is a long buildup to Christmas, but the run up to New Years is only a week. And while the symbol of Christmas is a newborn, New Years' sign shows a toddler replacing an elderly man. Christmas is more for kids. New Years is more for adults, and it serves to end the euphoria of Christmas, and send us back to start the year once more.
How neat and tidy. The fiscal year ends on December 31st. Individuals and businesses then take stock of what they have done. Conveniently, all the shopping is completed by the 24th, with a week for exchanges and refunds. And note that just as retail sales are the mainstay of the economy, Christmas sales are the mainstay of retail.
But that's not to say there's no genuine holiday spirit at this time of year. There is an infectious lightening of the mood, as we all wind down the year's affairs. Everyone needs a time to unwind, if for nothing else than to get wound up again. Christmas & New Years bring the closure we crave, but we can just as easily call it Kwanzaa or Three King's Day. After all, a holiday by any other name is still a holiday.
And what really happens in that week betwixt Christmas and New Years Eve? Nothing. (Can you recall anything you have ever done in Christmas Week?) Everything is pretty quiet (check it out) as people go about re-orienting themselves from the joy of Christmas to the official ritual that notes the ending of the year.
So why not make the holiday ours? Each night, from December 26th to January 1st, light a Kwanzaa candle with your family & friends. You'll be surprised at the positivity it can bring. Each day a different principle is honored that calls forth our collective resolve to do better in the upcoming year and all the years to come. Why not give it a try? After all, isn't it about time?
Staff Writer; Arthur Lewin