The War On Drugs Is a War On Black America…
(ThyBlackMan.com) How many times have you heard that the War on Drugs is just a cover for a sustained attack on our community that ferociously gobbles up our youth into the rapidly expanding prison industrial complex? Perhaps you think this a gross exaggeration. It is not. Here is the proof. On pages 96 and 97 of Michelle Alexander's The New Jim Crow we read the following.
"Human Rights Watch reported in 2000 that, in seven states African Americans constitute 80 to 90 percent of all drug offenders sent to prison. In at least fifteen states, blacks are admitted to prison on drug charges at a rate from twenty to fifty-seven times greater than that of white men. . . . When the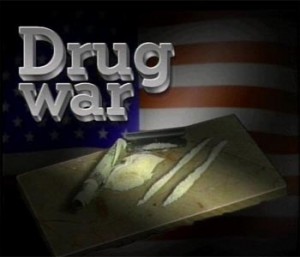 War on Drugs gained full steam in the mid-1980s, prison admissions for African Americans skyrocketed, nearly quadrupling in three years, and then increasing steadily until it reached in 2000 a level more than twenty-six times the level in 1983. The number of 2000 drug admissions for Latinos was twenty-two times the number of 1983 admissions. . . Although the majority of illegal drug users and dealers nationwide are white, three fourths of all people imprisoned for drug offenses have been black or Latino.
"People of all races use and sell illegal drugs at remarkably similar rates. If there are significant differences in the surveys to be found, they frequently suggest that whites, particularly white youth, are more likely to engage in illegal drug dealing than people of color. One study, for example, published in 2000 by the National Institute on Drug Abuse reported that white students use cocaine at seven times the rate of black students, use crack cocaine at eight times the rate of black students, and use heroin at seven times the rate of black students.  That same survey revealed that nearly identical percentages of white and black high school seniors use marijuana.
"The National Household Survey on Drug Abuse reported in 2000 that white youth aged 12-17 are more than a third more likely to have sold illegal drugs than African American youth. . . Any notion that drug use among blacks is more severe or dangerous is belied by the data, white youth have about three times the number of drug-related emergency room visits as their African American counterparts."
What can you do to correct this horrible injustice? Publicize this information. Make it known to all whom you know. Attend discussions and workshops where you can learn about ongoing initiatives to end racial profiling. For example, on December 5th, Baruch College in NYC, located at 25th Street and Lexington Avenue, is hosting a discussion led by Attorney Roger Wareham.
Roger Wareham, a lawyer and a political activist for three decades, is a member of the December 12th Movement, a group which organizes in the Black and Latino community around human rights violations, particularly police brutality. Attorney Wareham was co-counsel representing three of the young men wrongfully convicted in the Central Park Jogger Case, and is now valiantly representing Black political prisoners in various federal lawsuits around the country.
As the government continues its decades-long War on Drugs, the people who run heroin rehabs in New Jersey  and everywhere else continue to work towards helping people from all walks of life who are addicted to the opiate.
Attorney Wareham will be speaking at Baruch College on Monday, December 5, 6:00  – 9:00 PM, on the seventh floor of the Library Building located at 25th Street and Lexington Avenue. This event is free and open to the public. Refreshments will be served. Hope to see you there.
Staff Writer; Arthur Lewin
This talented writer has also self published a book which is entitled; Africa Is Not A Country: It's A Continent.