Eleanie Campbell; The Beauty of Black Love in Hollywood.
(ThyBlackMan.com) Not too long ago the media was in frenzy over the so-called break up of Will and Jada Smith. News spread like wild-fire that the couple were headed to divorce court, when Will supposedly discovered Jada and Marc Anthony (Jada's costar and love interest on the now cancelled Hawthorne) having an affair.
This appeared to really upset Will and Jada's fans. The gasps of disbelief, sighs and "OMG", could be heard across Facebook, Twitter and the radio waves. "No not Will and Jada! They're such a nice couple."
I must admit that I was a bit surprised, but not necessarily shocked because of past allegations regarding their alternative lifestyles. They are human and I am sure that they have ups and downs just as other couples.
After reading all of the headlines, listening to the social media chatter and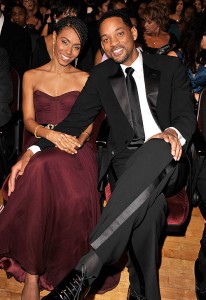 hearing how upset some people were I began to think about marriage. I asked myself what makes a marriage work, especially a Hollywood marriage. This caused me to think about black marriage in particular.
Will and Jada Smith exchanged vows on New Year's Eve in 199. Sadly enough, according to Hollywood standards that's a long time. They however, are not the only black couple in tinsel town that is still married after a number of years. The list would be too long to name them all, so here are a few.
Deion and Pilar Sanders 11 years
Angela Bassett and Courtney B. Vance 14 years
Rodney Peete and Holly Robinson 15 years
Spike Lee and Tonya Lewis- Lee 17 years
Barack and Michelle Obama 18 years
Ervin "Magic" and Earlitha "Cookie" Johnson 19 years
D. L. and LaDonna Hughley 24 years
Denzel and Paulettea Washington 27 years
Samuel L. Jackson and Latanya Richardson 30 years
Bill and Camille Cosby 46 years
And let us not forget the late Ossie Davis and Ruby Dee. Both acting greats were married on December 9, 1948. This power house couple were married for 56 years at the time of Ossie Davis' death in 2005.
I could only smile as I wrote this article and read about the couples and their successful marriages. A glow of pride radiated from within. It made me happy to see beautiful black men and women beating the odds and proving the stereotypical views regarding African-Americans and marriage false.
Staff Writer; Eleanie Campbell
For more writings by this sista feel free to visit; SoulXPosed2U.