What if George Bush, Not Barack Obama put CBC on blast?
(ThyBlackMan.com) To complain simply is to express grief, pain or discontent. I take it is difficult for President Obama to accept, feel or believe that some people, in particular in the African American community have such feelings. That we have grief of no longer having health insurance or being able to buy for our kids things that we once took for granted. That we feel pain when we struggle to keep our homes or maintain balanced diets to place in front of our family for breakfast lunch and dinner. Or that we feel discontent when we see the government making massive bailout to millionaires who work on Wall Street but barely lift a finger to deal with our concern with the exception as he did recently, to order us to stop complaining and "shut up." Because he was tiered of us voicing or grief, pain and discontent. 
I wonder why this posture is taken. Funny, I didn't hear such a tone or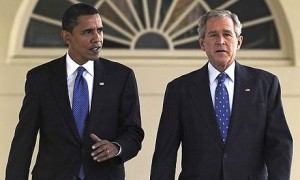 statement made toward Jewish Americans recently when thye COMPLAINED about President Obama's statements regarding a return to the 1967 borders of Israel. Nor did I hear a similar statement addressed to the Gay and Lesbian community when they voiced outrage and discontent toward not having the rights of marriage or concerning don't ask don't tell in the military. Nor did I hear him make such statements regarding Latino and Hispanic immigrants when they voice their pain of having to leave their families if caught up in the web of draconian attacks on supposedly illegal immigration. Yet I do with respect to African Americans.
Strangely, it reminds me of the posture of the mulatto half-breed house slave in diametric opposition to the field slaves. They were the ones to say that all would be good, yet they stayed inside with the slave master while the field slave risked all to the elements, the scraps that served as food and trying to maintain dignity in a world that saw a hierarchy in status based on skin color.
I cannot say why Obama was so brazen to use these words to those who look more like him than Zionist and others of European descent, but I can speculate it has to do a little bit with fear – that he fears the wrath of his master more so than the wrath of his kindred.
The presentation to the CBC I fell was a discussion between house slaves, including the President and the elected representatives and all who have jobs, and insurance and are not having to fight each and every day to keep their homes. The President said what he did and to ask those with a history of protest and complaint against a government who has traditionally ignored and neglected them is out of place, for in the same voice he asks us to speak out and complain against the republicans on Capitol Hill. It was disturbing for theirs was a discussion between themselves and did nothing to address the pain that we on Main Street are feeling. I say this because if George WW, Bush addressed the same body and told black folks to stop complaining we would not be defending his rhetoric. It is just speculation but I do not think we would support such an assertion on his behalf and that we only do so because the President happens to look like us.
If I am asked, as a man, not to voice my complaints to the government or a president, then what I am being told is that my voice or opinion is not important, doesn't matter and doesn't count. Now there will those who disagree but I can respect their opinion. The question is if they can accept mine. For sadly, I do not know if they experience the pain and discontent that I do, being under employed, going from 6 figures annually for more than 15 years of my life to less than $30,000 annually.
I think it would be wise for the president to reconsider such a tone with his most vehement supporters. For I feel that he is faling into a trap set by his enemies of divid and conquor. The ame approach used by house slaves against the field slaves. What he may not be aware of is that he was not just addressing the people of staus in that roo alone, but all of us. The poor, the underclas and the forgotten.
Yes, the President showed his true colors during that address. Its ok to speak down to African American mothers who struggle to put food on the table, its ok to tell men encapsulated by the wrath of a criminal justice system they they should not speak out to the government or president about the misery they suffer, that it is not ok for the three of every five African Americans living in poverty to ask for change and express their pain and suffering. If you do, you will be told to accept your lot and to not complain. I just wonder if George Bush would have the same support in the African American community if he said the same thing to the same body. I think not.
Staff Writer; Torrance Stephens