Dr. Boyce Watkins; Bishop Eddie Long's Case is Settled, but the Issue Is Not Settled At All…
(ThyBlackMan.com) "Matters have been resolved," according to an attorney familiar with the legal situation involving Bishop Eddie Long.  The suit involved four young men who sued Long and New Birth Missionary Baptist Church, alleging that Long coerced them into having sex with him.  The alleged incidents took place while Long was the head of an academy designed to mentor young boys.
The Atlanta Journal Constitution is reporting that Barbara Marschalk, a representative for New Birth, expects that  " the lawsuits will be dismissed, with prejudice, by close of business tomorrow."
B.J. Bernstein, who represents the four men who sued Long and New Birth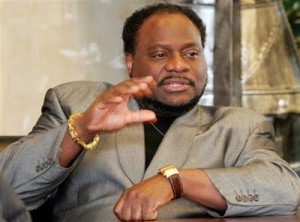 also confirmed the lawsuits had been settled.
No one is speaking about what happened behind closed doors and the terms have not been disclosed.  The attorney for the plaintiffs, BJ Bernstein, said that none of her clients…Maurice Robinson, Jamal Parris, Anthony Flagg and Spencer LeGrande …would ever be available for an interview on what happened in the case.
When the suit first emerged, Bishop Long promised a prolonged and arduous battle with his accusers. "This thing I'm gonna fight," he told his congregation just a few months ago.   But the fight that Long promised turned into a quiet little settlement.  There has been no call for a public trial on behalf of Long, deepening the suspicion that this "man of God" who once openly attacked the gay community, may indeed be guilty of some of the heinous actions of which he has been accused.
I don't know what happened between Bishop Eddie Long and those boys, and to be honest, I will probably never meet Eddie Long in person.  Being equally honest, I can't say that I would ever want to meet Bishop Long, because there appears to be quite a bit of evidence and testimony to suggest that he has long been in the business of causing irreparable damage to young people who've been placed in his care.  If there is anything worse than a man who abuses children, it would be an abuser who pretends to be a man of God.  So, not only does my heart weep for all the boys who've been sexually abused by Catholic priests who were expected to love them, I also feel pain for the young men who may have been sexually manipulated by Bishop Eddie Long.
Let's be clear: Settling a case does not imply guilt.  But Bishop Long's promise to his congregation that the truth would eventually be exposed is contradicted heavily by the fact that he has shared almost nothing.  If the members of the New Birth Missionary Baptist Church are so naive as to simply allow Bishop Long to quietly return to the pulpit, they do so at the risk of knowing that Satan's power has truly taken reign over their place of worship.  New Birth's congregation deserves to know the truth and Bishop Eddie Long should be willing to provide it.
Staff Writer; Dr. Boyce Watkins
Dr. Boyce Watkins is the founder of the Your Black World Coalition.  For more information, please visit http://BoyceWatkins.com.