Motorola Razr: 7 Interesting Facts About The Foldable Phone.
(ThyBlackMan.com)
Lenovo is already working on Motorola Razr 2
Lenovo-owned Motorola has filed a patent application for what could be the Motorola Razr 2. The drawings that appeared in Motorola's recent patent application suggest that the company will continue to use the same clamshell design, but the new phone won't look like its predecessor. This new device is expected to have a unique hinge which will create a T-shape when the phone is open. This design will likely increase the durability and make the phone more comfortable to hold.
It's the smallest foldable phone
It's impressive how Motorola solved one of the biggest problems Samsung and other foldable phone manufacturers have yet to solve. Motorola Razr's thoughtful design gives it a unique look. The top side smoothly sits on the bottom without leaving any significant gap. The hinge mechanism also works softly and doesn't look like it needs extra effort when handling. One of the best things about the Motorola Razr is its compact design. When unfolded, the phone measures 72 x 172 x 6.9mm and when you fold it, it's just 72 x 94 x 14mm. Moto Razr only weighs 205 grams.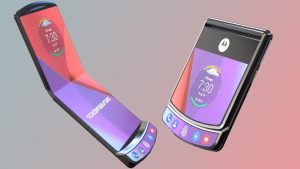 It costs roughly the same as the 512GB iPhone 11 Pro Max
When Samsung introduced the Galaxy Fold, it became clear that there's no way we are getting a foldable phone under $1000, which has become a standard price range for new flagship phones coming from Apple and its rivals. The Galaxy Fold costs $2000 and despite delays and screen problems, a large number of people waited for it. Early reviews have given a lot of hope to those who are waiting to buy Motorola Razr. The phone costs $1500 which is still a fair price for those of us who don't mind spending $1000 plus on a smartphone.
The rear camera doubles as a selfie camera
The Moto Razr phone has two cameras. On the backside, there's a 16MP camera that also works as a selfie camera. The image quality is excellent, however, if you're a fan of dual or triple-lens camera phones, which has already become a trend now, Motorola Razr is not for you. But if you choose to go for it, you won't be disappointed as the camera quality is excellent and the artificial intelligent assisted camera software also helps you choose the best shots as it generates optional shots guided by AI. There's also a 5MP front camera on the top when the device is unfolded.
It has a sharp front display
The original Motorola Razr was launched in 2004 with a 90 x 80 digital LCD screen. Now when Motorola has reinvented the phone, the new Razr sports an unbelievably sharp 800 x 600 display on the front. This touch-enabled display supports Quick View that means users can interact with apps such as messages and music without having to unfold the device. The internal display is a wide 6.2-inch pOLED display offering 21:9 Cinemavision at 2142 x 876p HD resolutions. Although it looks stunning, you may not find the display resolution ideal for watching videos that don't support widescreen viewing.
And there's something that you may not like
If you are searching for Motorola Razr pros and cons, you may not find much information as the device really doesn't have any significant flaws. However, it does have some drawbacks that can make you think twice if you're considering this phone as your next purchase.
The battery is just not enough
The battery on the Motorola Razr phone holds just 2510mAh power which is obviously not sufficient considering there are two display panels on the phone. Although the phone supports Turbo Charge, that doesn't help much, especially when you're traveling and have no way to charge the phone.
The processor is not fit for 2019
There's so much that Motorola Razr can do. It is one of the best foldable phones we have seen so far in 2019, but on the performance side, the phone doesn't have a processor to justify its hefty price. Motorola Razr runs Snapdragon 710 chipset, which was released in mid-2018. It's an octa-core processor but can't stand strong against the new flagship phones of the year that feature Snapdragon 855. Even the high-end phones released in 2017 and 2019 have a better processor.
Staff Writer; Corey Shaw
Have any Tech Tips? News? Hit up our Tech Guru at; CoreyS@ThyBlackMan.com