Three Tips for Quick Seasonal Decorating.
(ThyBlackMan.com) The holiday season is great for family, shopping, cooking, and decorating. After dealing with ideas for cooking and shopping the decorating can become last minute. Furthermore, if you are like me you aren't a very big decorator, but you would like your home to have a holiday feel. There are many that go all out for the holiday decorations their homes could be on the cover of a magazine because everything in their home screams holiday. However, you might be someone that wants the feel but not the extreme looks. You may not want everything in the house to be draped in fall leaves or late everything to be red and green…with gold everywhere and poinsettia's in every room. The all-out decorating can also be quite expensive, and it can leave you wondering where you will store everything until next season.  Rest assure there are a few quick economical ways to add the holiday feeling to your home.
1. Pick an aspect of the holiday you want in your home and the colors you like. This doesn't have to be traditional…tailor what you like to your decorating. I love autumn leave with a thankful them for fall that covers thanksgiving, and I love the winter wonderland that cover the Christmas season. This can allow you to plan what you want to do in your decorating without feeling overwhelmed by thinking you have to change your décor 3 or 4 times in two months.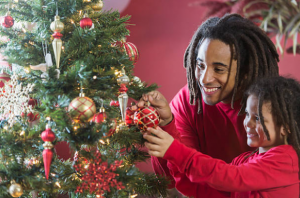 2. Dollar tree, Dollar General, and Walmart are great places to save money while getting the holiday look you want. Once you pick your themes and colors you can find a variety of items to add the look you want without feeling overwhelmed. Candles and throw pillows also add to your décor without spending too much. Be sure to have a shopping list of some sort as it is easy to spend more than you want in a place that has everything on sale.
3. Look around the house to see what you already have. I know I am guilty of not doing this. we accumulate a lot of items…candles, pillows, fabrics, and such throughout the year. Sometimes we already have a few of the things we need to begin decorating the house, and sometimes we find boxes from previous years with items in it that fit exactly what we are looking for. Granted looking through the house, sometimes, feels like more work that hitting the stores. However, if you are looking to save money…check the house.
Preparing the house for the holidays can feel like a mighty task. Take the time to decide on what you want in your house and narrow it down. There are stores that are cheap but carry an awesome holiday selection. The key is to get to the stores early, so you aren't forced to look through what has been picked over. Converse with family and friends that love decorating…you might find that they make miracles happen on a budget. You can have the look and feel you desire this holiday season even if you are new to the decorating game.
Staff Writer; Christian Starr
May connect with this sister over at Facebook; https://www.facebook.com/christian.pierre.9809 and also Twitter; http://twitter.com/MrzZeta.