Be Fair to Yourself During the Holidays.
(ThyBlackMan.com) The holiday season is underway starting with Thanksgiving. This is a time for family to come together, and to enjoy some of the best food of the year. With that being said this time of year for many can be hard on the heart. So many people struggle with the heaviness of grief, the lack of family, and family judgement. In an effort to keep it together for those that we love, it is easy to find oneself feeling ill-treated during the holidays. It seems like this time of the year is a breeding ground for broken boundaries, and a lack of consideration when it should be the complete opposite. It is important to take your physical ns mental health into consideration this holiday season. If you are fair to you…others will have to flow suit.
No one deserves to be badgered at a family function about how they are living, what they don't have, how they look, or anything that is negative. Family shouldn't get a pass on toxic behavior because we love them. The truth is because they are family, they should be out biggest protectors and supporters. If you find yourself dealing with these kinds of relatives you must be fair to yourself by politely putting them in their place. Stand by your boundaries, and defend them if necessary. This may sound mean, or uncomfortable, but if family can't behave in a loving manner remove yourself from the toxic situation; if the gathering is at your house, they can hit the road. Your mental health and peace is more important than accommodating their foolishness.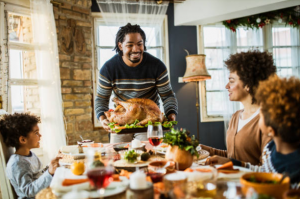 Holiday season is wonderful, but the cooking is a great and mighty work. Holiday cooking can be rather hard on the body…especially if you are stuck doing most of the cooking alone. Granted there are some of us that want to do all the cooking, and don't want anyone in our kitchen. Preparing the meal is a source of peace for some, and it does something good for their soul. If this is you by all means carry on, but if it not be fair to yourself.
We all know about the family, and friends, that contribute nothing to the holiday meal, but they pack ten plates put them in the car, and come inside to eat a plate. They don't seem to understand how much time, work and money goes into into everything on their plate, and the inconsiderate behavior is frustrating. If you dread doing the cooking delegate the responsibility, and just focus on what you enjoy making. There is no point in cooking for days only and not enjoy the food because you are in pain, agitated, and tired beyond reason.
Enjoy this holiday season. You deserve better than to be made uncomfortable by people that should love and support you. Cooking should be a joy not a burden by which you are obligated. The holidays should be about love, joy, coming together, and making wonderful memories. There is enough confusion in the world that should not be allowed into your celebratory space.
Staff Writer; Christian Starr
May connect with this sister over at Facebook; https://www.facebook.com/christian.pierre.9809 and also Twitter; http://twitter.com/MrzZeta.