Wahl Edge Pro Trimmer is a Great Addition.
(ThyBlackMan.com) I am a guy that values simplicity, and this applies to my personal grooming. I want a product that is efficient, ergonomic, has attachments I can actually use, meets multiple needs, and doesn't cause me discomfort. That is not always possible to find in one item. I have gone through many different kinds of trimmers and they are usually lacking in some area. I've had trimmers that were a good size in my hands, but the cut wasn't very clean.  Some trimmers I've used are simply not wide enough, the cord was a heavy inconvenience, or the trimmer was cordless and didn't keep a charge. None of these issues are the case with the Wahl Edge Pro Trimmer. This trimmer has made grooming so much easier, and I can even use it while at the fire station for multiple days.
This trimmer can be used on my face without causing bumps.  My face doesn't have to be dry as in without moisturized so there is less chance for irritation. The blade is very wide which allows me to make less passes across my face…again this keeps down irritation. This product is also perfect for edging around the ears and neck; the is one of the features I really appreciate. It also great for edge ups allowing for clean crisp lines. Removing hair from larger parts of the body like your chest is also less time consuming.  One aspect I can appreciate is the cutting ability is smooth across the body. Basically, there are no snags whereby you feel the hair pulling as you cut.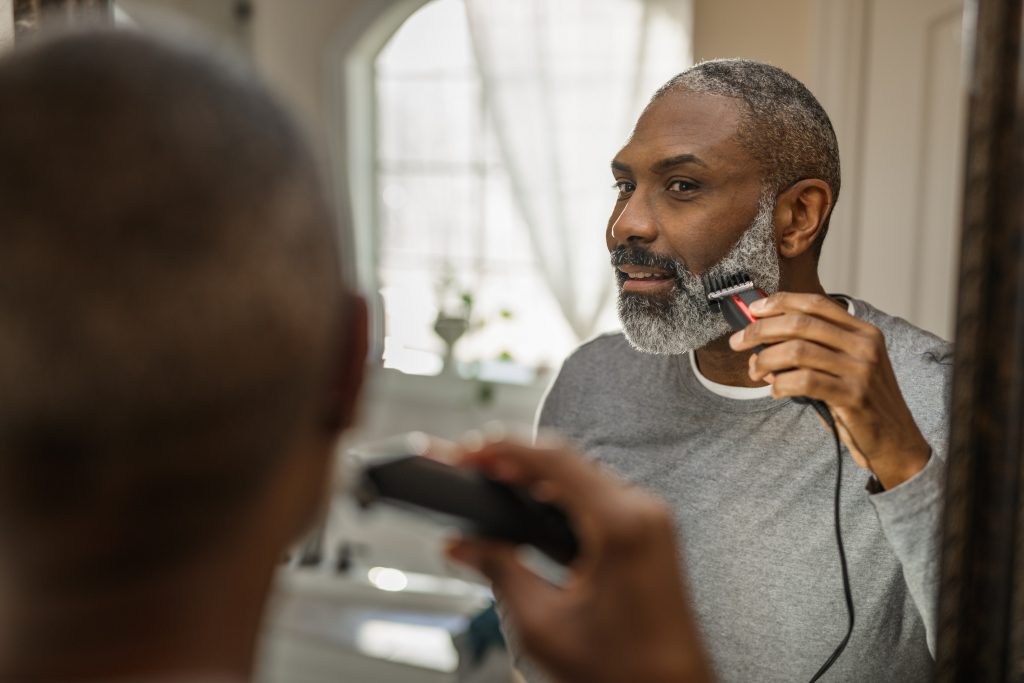 The accessories that come with the trimmer allows you to use this personally or professionally. If you needed to cut your child's hair, there are enough guards for multiple lengths of hair. This is great if you need to save a few dollars, or help put a friend, by doing the haircuts of the children or edging up a friend. I've used it on my job, and it would come in handy if I were to help out a co-worker.
When I opened the box, I was immediately impressed with the presentation. The weight and quality of the trimmer was to my liking. It doesn't fell nor look like a cheap, or poorly made, product. Included in the box are the twelve guards, scissors, beard brush, cleaning brush, blade oil. Barber comb, and a pretty sturdy storage case. The trimmer definitely upholds the Wahl tradition of making good trimmers that are of quality. This makes me feel that I won't have to worry about replacing this trimmer for quite some time. Honestly, I hope this product is a mainstay for Wahl so that I could just continue to use this trimmer whenever the time comes to seek a replacement.
The trimmer is louder than I expected. There is always a hum with these products, but this one was seriously loud. When you look at the guards at first glance, they look like they light be a bit fragile, but they lock on the trimmer firmly until you remove it. Though it has a good weight to it…it's not so heavy that it should discourage someone that is not used to using a trimmer. At the same time, I don't advocate for everyone to attempt to cut their own hair, or beard if they don't feel comfortable doing so.
This is definitely a trimmer I am happy to use. It fits my busy life and allows me to get many things done regarding grooming without using more than one trimmer. I highly recommend this trimmer for African American men, and those with very sensitive skin. You can use this on you face, head, chest, or wherever you feel necessary without bumping up, or getting a rash. The Wahl Edge Pro Trimmer is closer to a razor shave than even the electric shaver. I will be looking to gift this item to a few people this holiday season. Gift it to yourself…you won't want to use another trimmer after you've tried the Walh Edge Pro.
Wahl Official Site; https://wahlusa.com/
Wahl Instagram; https://www.instagram.com/wahlpro/ (—–
Staff Writer; Sam Starr