5 Habits of Emotionally Wealthy Couples.
(ThyBlackMan.com) We all lead a hectic and busy lifestyle these days where since the time we get up to the time we go back to bed we are running around our professional commitments and there is hardly any time left for self. Lucky are those who can take out some time for self and are in healthy relationships and are committed to their partners. It is pretty difficult to have a life approach where one may strike a balance between personal and professional life and those who have been able to do those hats off to them. There are lot of important things when it comes to relationships and marriage and one need to be true to it and should be able to keep up with that. A lot of us turn around and witness happy and contended couples and often imagine what the secret that is binding both of them is. Well there are many factors out of which communication is the key which keeps the emotionally wealthy couples who tend to have long lasting marriages. Let us look at some habits of emotionally wealthy couples which keep that intact and get the relationship going.
Appreciation
One way which keeps an emotionally rich couple together is that they keep their relationship alive by expressing appreciation on a daily basis. Couples often ignore each other's emotional needs and get busy with self however a couple which keeps expressing to other especially appreciate the other has a special bond which keeps them alive and get going. They do not care what others have to say about them but what matters to them how they can bring smile on each other's face.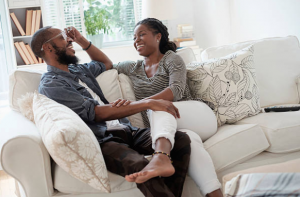 Discuss Stress
Whenever we are in stress we tend to be alone and deal with us personally which is not right. Especially when you are in relationship you should have the courage to talk it out and take the stress out of self. It works wonders when you talk to someone and there can be nothing better than your partner who understands you, supports your, lend you an ear and stand by you. Conversations that are stress reducing bring a closeness among the couple and gives them a opportunity to smile and forget the stress.
Be affectionate
We often ignore the other when we are in relationship and take things for granted which is not right. Remember expressing a word of thanks, kissing, holding hands, cuddling is all opportunities when you make deposits into the emotional bank account and this is what matters. Remember these small gestures are the ways to show you love you care and you show affection. When you are affectionate the other person knows that you care about the smallest thing for him/her and this is something they are proud of and brings a smile on their face.
Celebrate
When in relationship always find an occasion to celebrate, smile, appreciate and make joy. There is no small or big celebration what matters is bring a smile on each other's face. Often we start taking things for granted and this is when the spark in relationship goes off. So never let the sparks go off rather look for a reason to smile and celebrate to make the other person feel special. A couple who celebrates success and both failures are the ones who stay together and have the courage to fight all odds.
Maintain other relationship
We all need family and friends all the time and thus we should always maintain a healthy relationship with them. Being with a special someone does not mean that you ignore everyone else which is often the case with many and this is not right. Take out time and meet your friends and family as they are also important and play an integral part in your life. So, without avoiding or neglecting your partner balance out time for others and much often you can be together with them thus friends and family too feel that you care about them.
There is no set rule of the above but there are many more habits which bring a couple together and keep the relationship rising on paths of success but the most important thing is to make the other person feel that you care for him/her and think about them.
Staff Writer; Sherry Carter
Have Tech News? Hit me up at; SherryC@ThyBlackMan.com.