A Quick Guide to Launching a Seriously Competitive Tech Startup.
(ThyBlackMan.com) Competing in any industry related to technology can be difficult due to the sheer number of companies that are selling products and services in every tech niche. How do you show up and start making impressive progress from day one when there are so many other providers for your prospective customers to consider? After all, it's not like you have the kind of deep pocketed budgets that many established tech companies have, so you probably won't be able to compete in terms of bidding for paid advertisements or sponsorships. Fortunately, this quick guide will cover some steps that you can take to differentiate yourself from the crowd, portray your company as an authoritative entity, and make a name for your brand in today's tech scene.
Incorporate and Structure the Company Properly
First and foremost, you need to ensure your company is fully legit by incorporating it as an official business. Generally, most tech startups choose to structure their companies as Limited Liability Corporations (LLCs). Another benefit of opening an LLC is that it gives you an Employee Identification Number (EIN), which is sort of like a Social Security Number for your business. Your EIN can be used to apply for credit, open accounts, and file taxes as a business entity. Running the company as an LLC also limits your personal liability as the company owner, so it's important to make sure incorporation is handled before you proceed in trying to dominate the competition.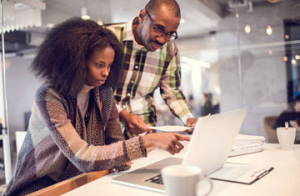 Bring Something New to the Table
Now that you've got the basics taken care of, it's time to think about how you're going to increase your product's value proposition – the features that make it appear to be more valuable than competing products. Sometimes, this can come in the form of a single modification or just offering more color variations. The change doesn't have to be major, but having something that makes yours stand out will certainly help to sway sales metrics in your favor.
Learn How to Scale Up
Failing to expand is a common problem faced by smaller tech startups who simply don't have the funding or employee power to facilitate any significant expansion. Take time to study the art of scaling up and you'll have a strategic head start when it's time to advertise your product in new markets and increase order volumes. There are plenty of books and guides that have been written on the topic of scaling up in the tech & retail sectors, so be sure to do your studying in this area.
Do What Your Competitors Aren't
Finally, perhaps the most reliable way to show up and make an impact with a product right out of the gate is by offering a level of service, customization, or quality that nobody in the niche is currently providing. Going the extra mile will always be an effective way to draw attention to a new brand, so look for ways to provide additional incentive to your leads and they'll be more likely to convert into buyers and repeat customers.
Staff Writer; Peter Jones