Let's Put the New iPad Hype Aside, How Good is iPadOS, Really?
(ThyBlackMan.com) After seven new MacBooks, Apple has registered five new iPad models in the Eurasian Economic Commission. These new iPads run the company's new software called iPadOS. The new operating system for iPads is coming this fall, but you can install the beta version now.
However, early tests revealed that iPadOS is buggy at the moment. Many apps have not received an update yet, so they might crash or won't work properly. So if the iPad is your primary device, wait for a stable iPadOS update because when the new software launches officially this year, it will change the way you use your iPad.
Apple has always wanted to turn its tablet into a laptop-replacement and iPadOS appears to be the best thing that could support this vision. The software adds support for more external storage devices, improved browser capabilities, better multitasking, and hardware connectivity. Note that iPadOS also lets users connect a mouse for a true PC experience.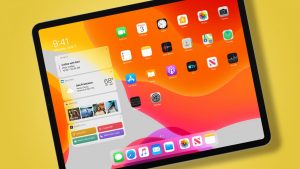 iPadOS vs iOS 13 – What's New in iPadOS
There's a bunch of tasks which you can't accomplish with iOS on iPads. You can't read flash drives, can't move files easily, and internet surfing is also a painful experience considering the mobile version of websites Safari throws at you. Thankfully, Apple is changing a lot of things with the iPadOS release. The new software features an improved Safari browser that makes iPads act like a Mac. In simple words, your device will no longer tell websites that you're using a mobile device, it will tell the browser that you're using a Mac instead.
Why it's important because, on iPadOS, you will be able to enjoy full web experience on your favorite websites rather than seeing a mobile-optimized version of those sites. The software also provides a full-featured Google Docs experience which means you can create, edit, and manage files on Gdocs in a better way. When compared with iOS 13, iPadOS feels more user-friendly. The operating system takes full advantage of the large iPad screen. It gives you more information and more ways to access apps, multitask, and get things done without having to deal with multiple apps.
An improved web browser, multi-window support, and support for external drives make things easy. You can now connect any external drive to your iPad and it will read the data in Files app. You can also compress multiple files into one zipped folder for quick and easy transfer.
Adding widgets to your iPad's screen has become a lot easier. You can place widgets on the home screen, you can also open an app in multiple windows. It's useful in case you want to read something while writing or just want to collect information from old emails while writing a new one. Apple iPadOS also brings gesture support in more features, but with a mouse, you probably won't use those shortcuts anymore.
iPadOS is not a Mac killer
A lot is happening in the tablet space as the iPadOS is changing things at a fast pace. But those of you expecting iPads to become a Mac killer after the iPadOS release this fall need to think again. Apple is still not so flexible when it comes to supporting the use of third-party apps. On a Mac, you can easily switch to a new browser or a new music app, but this is not the case with iPadOS. You can't switch to Chrome or any other browser and you also can't tweak the software for enhanced user experience. This makes the whole experience very limited. Unfortunately, you just can't step out of it because Apple doesn't let you do that.
Now when the iPad and iPhone run different operating systems, much of the features will be the same on these devices. Remember that iPadOS is still in the testing phase and Apple needs time to polish the software to make it stable on all the devices across the iPad portfolio. So instead of rushing to install the beta on your iPad, wait for the official release for a bug-free experience. Apple has confirmed that the iPadOS will be available starting from fall 2019.
Staff Writer; Corey Shaw
Have any Tech Tips? News? Hit up our Tech Guru at; CoreyS@ThyBlackMan.com