3 Ridiculous Problems found in the Apple iPhone 11 and Samsung Galaxy Note 10.
(ThyBlackMan.com) The Galaxy Note 10 and Apple iPhone 11 have many great attributes which will help Apple and Samsung attract more admirers. They have a strong track record of using the latest technologies, a strong user base, the power of innovation, and more.
As these two smartphone makers are getting ready for the race, they will soon announce their new flagship phones. And loyal Android and iOS fans will once again start rushing to stores. But nothing is set in stone and Samsung's Galaxy Note 10 and Apple's iPhone 11 could face a number of problems this time.
Ugly Design
Let's talk about Apple first. Apple has decided to go with an ugly design for the iPhone 11. If you were not following the latest iPhone 11 rumors and news updates, you've missed one key information about Apple's new iPhone. The iPhone 11 will sport a multi-lens camera system on its back, and the worst thing is, Apple has decided to put them in a big square. This camera setup doesn't look good at all.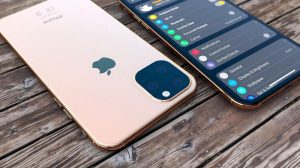 Samsung, on the other hand, is working on the Galaxy Note 10 and the smartphone's design is bad. It's completely understandable that Samsung won't release a truly all-screen phone this year. We were expecting the Note 10 to borrow some design elements from the Galaxy S10 phones because the series 10 phones look beautiful. But instead of moving the front camera to the edge, Samsung has decided to go with a punch hole that sits in the middle. This design idea looks opposite to what many people expected from the Note 10. The front camera on the beautiful Galaxy Note 10 display catches all the attention for all the wrong reasons.
No headphone jack
Apple suddenly took away the headphone jack from its iPhone product line. The launch of the iPhone 7 without the headphone jack was a big deal, and lack of headphone jack is still a big deal. Most of these tech companies who stopped shipping phones with the headphone jack say that the decision helped make more room for the battery and to achieve water resistance without fail. That's a strange thing to say because we see a large number of smartphones that sport bigger display, bigger batteries, and even IP rated water resistance. Interestingly, most of them haven't ditched the headphone jack.
Surprisingly, Samsung is also doing what Apple did with the iPhone 7. With the Galaxy Note 10 launch, Samsung will finally say goodbye to the headphone jack. It means you will either get wireless earphones or you will have to rely on connectors which means you won't be able to charge your phone with a cable while listening to music.
Camera tech
Flagship phones from Apple and Samsung are considered among the best camera phones. Thanks to the multi-lens camera trend and software improvements that enhance the photographs so nicely. But there are some problems both Apple and Samsung smartphone fans have pointed out in the past.
Apple's latest iPhone XS is said to be aggressively processing photos. In a comparison between the top camera phones of the year, we saw that the new iPhones capture more facial details than other phones. But in selfie mode, Apple's camera software is over-smoothing skin in photos. For some users, this isn't a big deal, but for some, it's a problem. Many people have complained that their selfie photos look very different. For the iPhone 11, we haven't heard anything new in terms of camera tech, and same is the case with Samsung' Galaxy Note 10.
The Note 10 was rumored to have a camera upgrade. Some reports suggested that Samsung planned to use new optic sensors. It was revealed that the Galaxy Note 10 could have four cameras and the company will use a new CMOS image sensor, but this isn't happening anytime soon. Samsung has been using this sensor for 4 years and leaked details suggested that the Galaxy Note 10 could be the first Samsung phone to use new sensors. Now it is being said that Samsung is keeping this hardware upgrade reserved for the Galaxy S11, which will arrive next year.
Staff Writer; Corey Shaw
Have any Tech Tips? News? Hit up our Tech Guru at; CoreyS@ThyBlackMan.com