It's Not too Late for Love to Find You.
(ThyBlackMan.com) Love is a very hard subject for many. There are people that feel they have given everything they are, and have, to relationships only to believe they have found love…and lost. There are spaces of misunderstanding, and situations whereby what a person has been through makes navigating a relationship difficult. Unfortunately, there are also those cases where a person finds the one, they feel is meant for them, only to question God and the universe as to why they are gone. They experience love on levels they never imagined, and no mater what is going on in they world that person is home to them. Then one day due to illness, or violence, that great love is taken away from them. All the bereaved are left with is memories and a hole in their heart that doesn't seem to heal.
For many reasons some of our people have come to the conclusion that love has abandoned them, and they have no choice but to accept that love is something they will never have.  The positivity of friends and family urging that love will show up often falls on deaf ears when it feels that no mater what happens finding love has failed.  Sometimes it feels easier to take the position that you are happy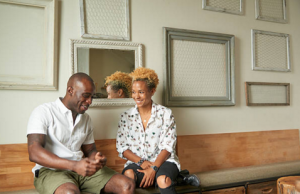 with your career, and life as is so you don't have time nor need a personal life. It seems safer at times to take the position that you are completely beyond that need, and everything as going wonderful without love, and you don't need anyone in that way.
Life is always evolving and growing. None of us remains the same, so as long as you are living you are never too old, nor forgone, for love to find you. Sometimes we have to get to the next level in our life to be ready to navigate love in a healthy way. It is very hard to see the areas whereby we needed healing and growth when all we see is a broken heart. Many people have experienced different degrees of trauma that are not rooted in their previous personal relationships. However, the pain of those situations served as a catalyst in destroying the future of said relationships. There is nothing wrong with acknowledging these things, and that is not a position that blames you for everything.
However, it can serve as information that is helpful in showing you where you need to grow. Many people have found it easy to love, and be loved once they got to a place of healing whereby they were able to love themselves. Sometimes this takes time, and time with oneself. Love could be at your front door, but if you see yourself as unable to be loved you won't see that someone could be waiting to love you in a manner that you deserve.
Having clear goals is very important. too many people are told they can't fiercely pursue a career without stopping for love, or they will find themselves alone. That's so far from the truth! There are people that have sacrificed for the career they want, and they are just as capable of finding love as the next person. They have established themselves and, in that space, they are ready to settle down being able to focus on growing a relationship. If you are in pursuit of your career you will not be too old for love to capture your heart. Never let anyone feel you must give up any dreams of love and a family because you are focused on building a foundation that will be a blessing to your future.
The death of a love is hard to accept, and there are parts of you that will never forget. There are many factors that go into the depth of the pain. Its very difficult to see yourself with another person when it feels like your heart was buried with your beloved. If you choose not to open yourself up to love again that is definitely your choice, and it's one friends and family should respect. However, even in that dark space love can find you again if you allow such to happen. Embarking on a new journey doesn't mean you have forgotten about the love you lost. It doesn't mean you love that person any less. You are just evolving while continuing to live life.
No one is too old, nor has been through so much, for love to find you. The path to love might start with self-love and healing, may require opening that door after you have achieved some personal goals, or it could mean working through love lost via death. Regardless of what we face in this life as long as we are living and moving forward love can find us. We just have to be sure to be honest about love. Many of us want to be in loving relationships; many of us love our family but don't want to go through life without having someone of our own to love. It is okay to admit that truth to ourselves and create an atmosphere in our live whereby love can find us.
Staff Writer; Christian Starr
May connect with this sister over at Facebook; https://www.facebook.com/christian.pierre.9809 and also Twitter; http://twitter.com/MrzZeta.