3 Strategies to Run Your Online Business More Efficiently.
(ThyBlackMan.com) One of the biggest misconceptions about running an online business is that you can do it all yourself including but not limited to replying to emails, manage Social Media accounts, create content graphics, etc. The truth is that it still takes a well-oiled machine to be able to run an online business effectively and not get so tired with doing the smaller things that you are exhausted by the time you get to your income-producing activities. Income producing activities are things that absolutely must be done in order for your business to be considered a business.
Posting to your Social Media accounts are definitely on the higher end of the income-producing activities list. However, if you don't create the content/product to post on your Social Media then what will you be able to post? When running an online business you have to be more organized and on top of things than when you were working a job. This is because, at a job the systems have already been created for you, you just have to follow them. In addition to that if something isn't working you can report it to someone and it would be their job to fix it and then update you on the new processes.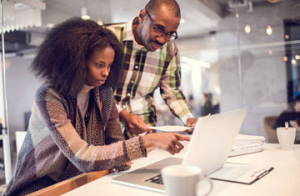 When running an online business all of that is on you. You are responsible for putting your system in place, trying it, changing and perfecting it! Most of this is all done by trial and error unless you pay someone to help you. Below are three tools that you can use to help run your business more efficiently online while freeing up your time to do the things that matter.
Auto-Responder
Emailing will be one of the most time-consuming things that you will do as an online business owner. The one thing that you want to make sure to have is a Auto Responder. Even if you do not plan to "collect" emails in the traditional sense, where you have a capture page for them to enter their email into. This will not only allow you to email all of your contacts at once, something you could do with your current email, but it will also allow you to track the effectiveness of your email and how many people are actually opening them. This information is very important when you start to consider scaling your business.
If you have the numbers on how many people are opening and clicking items in your emails you can do the math and figure out how many more you need on your list to get your desired result! Although emailing will not be your primary means of getting sales for your business it is still another way. You won't be able to get away from the personal emails that clients and potential customers send you, however, being able to track your open rate and click-throughs are important. Three of the most popular email autoresponders are Aweber, Get Response, and Mail Chimp. Having experience with all three I prefer Mail Chimp, however, they all offer a free version that you can use to try to see which is a better fit for you.
Scheduling Social Media Posts
Social Media is a big part of any online business. It is the primary place where most people go to find products and services. A quick hashtag search allows potential customers and clients to find what they are looking for. When you are in the beginning stages of running your business
it's so easy to get caught up with everything else outside of marketing, which is what Social Media is used for. So in order to not allow your Social Media presence to disappear throughout the day, you can schedule your posts so that there is always something to post to your Social Media.
One way to do so is to use a program that automatically posts for you once you input the content. That would be a program like Hootsuite or Buffer. Although they do offer a free trial there are usually costs that are associated with these kinds of programs. A free way to schedule your Social Media posts is from the platforms themselves. Take a few hours on your management day, which is usually Sunday for most people, and set up your accounts with some content for at minimum three days. This will allow you to simply click and post because you've already put the content and the message in and just saved it versus posting it. This also works great for reposting.
Get Leads
Potential customers are often referred to as leads in the online world. If you don't have a website just yet a lead capture page would serve you well. It will allow you to give your customer some sort of value in exchange for their email number so you can contact them in the future. You could also put different things about you or your product and services on there allowing people to really want to invest in your business/brand. The great part about this is that most Autoresponders either come with lead capture pages or can be linked to a lead capture page account if you want something more specialized. If you can't get customers then you won't have a business.
These three items alone will allow you to run your business more efficiently while spending time where it matters!
Staff Writer; Sister Victoria X
One may also follow this sister over at; SVX.