How to Pick the Console That's Right for You.
(ThyBlackMan.com) Which is the best console money can buy? As the holiday season and the New Year approaching soon, more and more people will ask the same question. Deals, discounts, and exclusive content rule the video game industry when it comes to buying a console, but what matters the most is value for money. If you're in the market looking for a new console, here's a guide to help you pick the best one.
Check content
All the major gaming consoles including the Xbox One X, PS4 Pro, and Nintendo Switch are doing well. They all come with exclusive content and share a common library of games that brings many indie and AAA titles. From the beginning, we have been tracking how well these consoles perform in terms of bringing fresh and exclusive content.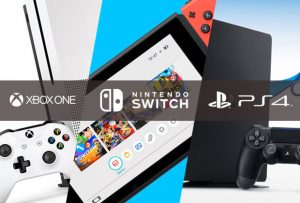 Sony, being the most favorite console of this generation, brings more exclusive games every year. While comparing the consoles from Microsoft, Sony, and Nintendo, we also observed that Sony PlayStation 4 users get more indie games, especially the ones that release in Japan. Xbox One X lacks this mixture in its game library. If you don't know, Xbox One and Xbox One X don't have separate libraries of games, meaning that you can choose any of them for content.
As far as gaming on Nintendo Switch is concerned, content on Switch is still growing and it has many new and old (Wii U) games to offer. The only negative thing about the Switch is that it still has a very limited number of games. Many game developers are supporting the console, but the amount and quality of content on Switch is still in bad shape.
The winner is the PS4 Pro, but if you're on a budget, you should choose the original PS4 because it is now available at a more affordable price.
Check hardware
If you are looking for a true 4K gaming experience, the Xbox One X is the perfect console for you. Microsoft launched the Xbox One X almost one year after the release of Sony's PS4 Pro. By taking more time, Microsoft took a huge step forward in terms of hardware performance.
The Xbox One X is certainly a better hardware than the PS4 Pro. It offers 4K Blu-ray support and HDR video playback. These elements enhance the visual performance of games, but one thing that disappoints us is lack of VR support. Sony has released PlayStation VR, the most affordable premium VR headset for gamers. With the PS4 Pro, gamers can enjoy true VR experience if they invest their money in the PSVR. Microsoft has confirmed that the Xbox One X won't support virtual reality, which means, there's only one easy way to play VR games on a console and that's Sony's PS4 and PS4 Pro.
Since we are talking about the hardware and graphics performance, potential buyers should know that Sony's PS4 Pro offers 4K and HDR, but you can enjoy these enhancements only on the game which are specifically optimized for the same. The console does offer better graphics even on the unoptimized games, but the Xbox One X is far better than what Sony is offering in this particular area.
Today's consoles can do more than gaming. You can watch your favorite shows, movies, and videos through streaming services. The PS4 Pro offers decent entertainment, but the Xbox One X offers incredible graphics. If you want a complete entertainment system, arguably the one you can use for limited gaming and more media consumption, Xbox One X is perfect for you. Just like Sony's PS4 Pro, if you find the Xbox One X expensive, you can choose the original Xbox One as it is now available at a more affordable price.
Check your needs
What do you need a console for? Yes, you want to play games, but how? Do you want a traditional plug-and-play home console or you want a portable console which you can carry anywhere? Without a TV or monitor, your Xbox One X and PS4 Pro are technically useless. If portability is your top priority, buy Nintendo Switch because there's no better option available since PS Vita is slowly dying.
Sony, Microsoft, and Nintendo offer different subscription services. Microsoft offers Game Pass and Live Gold services, while Sony has PS Now and PS Plus. Nintendo has launched the Switch Online subscription service with the same goal. When it comes to the availability of content, Sony wins the race but you may also find it costly.
If you are looking for the best console, keep your budget, the taste of games, and needs in mind then you won't make any mistake.
Staff Writer; Corey Shaw
Have any Tech Tips? News? Hit up our Tech Guru at; CoreyS@ThyBlackMan.com