Comcast Gigabit Services Now Available In 39 States for Around $150.
(ThyBlackMan.com) More than 58 million homes can now get Comcast gigabit services, as the company has confirmed the availability for its internet service network. Comcast's Xfinity Gigabit service doesn't come cheap as you will be paying almost double the price of local internet services. Comcast has launched different plans for its gigabit internet and the price for the services is between $100 and $160 per month.
Comcast gigabit network, Xfinity gigabit is popular in many states, but the company has not disclosed how many people have signed up for its high-speed internet services. Comcast started its gigabit services not more than three years ago, and today, it serves 24.4 million customers. According to the company, its 75 percent of customers are enjoying the broadband speed of 100 megabits or higher.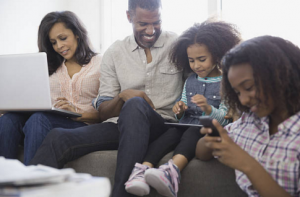 Independent surveys have shown that only a few customers are actually getting the 1-gigabit speed or higher. A survey by Morgan Stanley revealed that the number of households getting 1-gigabit speed is just 3 percent. The report talks about cable internet service users in the US.
Comcast, in October, announced that it has completed the expansion plans for the Xfinity Gigabit services. The company claims that it has become the largest internet service provider offering 1-gigabit speed in the country. Comcast has also removed the 1TB data cap from some of its services including the Xfinity Internet. This is applicable to the accounts on Gigabit Pro. The company has also exempted Business Internet services from the monthly data cap.
For single users, data cap is not a big issue because their usage is generally low, but for people who use multiple devices, streaming services or share their internet with family members, the data cap turns out to be a deal breaker. For all the additional data used after the cap, people have to pay the extra fee, which is significantly higher than the average price of the internet they pay for their plan.
Comcast has also unveiled a new promotional plan for those who wish to upgrade or buy a new connection. Depending on your location, the promotional plan will give you access to the Comcast gigabit internet for as low as $100 per month. For some users, the price can be less or more as your location plays a major role in determining how much you'll have to pay. During our test, we checked the available promotional offer for Sarasota County, Florida and found that the 1-gigabit plan starts from $110 per month and if you want more speed, the 2 gigs plan will cost you $299.95 per month.
As mentioned above, hitting the top speed on any internet plan is not always possible. There's no guarantee that even after taking a 1 gigabit or 2-gigabit plan, you will get the advertised speed. Internet speed depends on a lot of factors, and these things work in three different phases. The first phase involves the source, so a low speed can be due to some issues at the source, and neither your ISP nor you can do anything about it.
The second phase involves your internet service provider. If something is not right from their end, due to any reason, then you will not be able to enjoy high-speed internet or maybe you will not get the highest speed your plan offers. The third and most important phase is the user end. Your own devices' settings and capabilities, for example, your router, PCs, mobile phones, and streaming players can be the reason why your internet speed is slow.
Achieving 1-gigabit speed is not possible for the majority of internet users due to technical limitations and several other factors. The technology is getting better and it will certainly need more time. As we all know that 5G services are still in the initial stage. Once they become readily available, people will choose wireless internet options over cables connections.
Staff Writer; Corey Shaw
Have any Tech Tips? News? Hit up our Tech Guru at; CoreyS@ThyBlackMan.com