Pixel 3 and Pixel 3 XL: Trying to be iPhones Without Great Things.
(ThyBlackMan.com) Google's new Pixel 3 and Pixel 3 XL are arguably the most feature-rich smartphones in the Android realm. They are also two of the most controversial phones launched in 2018. From an average consumer's point of view, the top reasons for choosing the Pixel 3 and Pixel 3XL are display, camera, performance, and Google's direct software support.
People, in fact, compare Pixel phones with Apple's new generation iPhones. We also did that. But instead of comparing the hardware, which is a lot easier when you put spec sheets, test reports, and some image samples together; we compared these phones on many other parameters. What we found is interesting: Pixel phones are trying to be something they are not.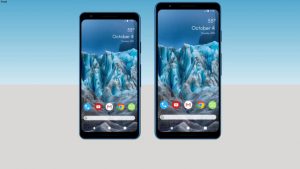 Google launched Pixel 3 and Pixel 3 XL with added emphasis on camera technology. The camera quality of the Pixel 3, Pixel 3 XL, and their predecessor is undoubtedly good, but it's not enough to justify the hype. The Night Sight feature is really a great show of Google's strength in the software area. This feature alone is an answer to the smartphone camera technology being advertised by other companies.
If we look at the hardware improvements on the camera side, there is hardly something noticeable. Google has made some changes here and there, but the minor updates like improving optics and sensors a little bit don't make Pixel 3 and Pixel 3 XL cameras any better than the Pixel 2. After trying their cameras in different lighting conditions, we can say that there's no major difference in the picture quality.
Google delivers the best Android experience on Pixel phones. The new phones with Android Pie feature a new navigation gesture and if you are a regular user, you may have realized by now that this is not a meaningful feature because the three-button navigation works a lot better on Android phones. Google needs to learn a lot of things from Apple in this particular area, especially when the company aims to compete with Apple.
That said, Google offers three-year update support for its devices. Even the latest phones will get official support only for three years. Apple, on the other hand, supports its phones for five years. Not every smartphone user upgrades to new phones frequently, and those who prefer using their Android phone for more than three years feel left alone once the device moves out of the update cycle. In Apple's software ecosystem, you can still update your 2013's iPhone 5S to the latest version of the iOS 12.
On the hardware side, Pixel 3 and Pixel 3 XL phones feature Qualcomm's latest SoC Snapdragon 845. You can find this chip in almost all the leading Android phones of 2018. Qualcomm will soon introduce a new chip and people who buy Pixel 3 and Pixel 3 XL will realize that their device's processor will become outdated soon. Since Apple has its own chip, their updates are not limited to any third-party vendor's support cycle. Google doesn't have this much freedom as they rely on other companies for such important hardware components.
One more thing that Apple does better than Google is service support. You can walk into any of the company's huge network of service centers to get your phone repaired. Pixel users can't expect the same from Google as the phones are also not available everywhere. That said, iPhones also enjoy a wide range of compatible third-party accessories, which is almost absent in the Android space, especially if you are a Pixel phone user.
It's true that electronic devices are just a part of Google's wide range of products, but if the company is selling smartphones in the premium price range, it will have to step up its game if it wants to beat a company like Apple or at least the competitors that offer almost similar products at a lower price range.
Staff Writer; Corey Shaw
Have any Tech Tips? News? Hit up our Tech Guru at; CoreyS@ThyBlackMan.com