Google Home Hub: Why It's Better Than Facebook's Portal & Portal Plus.
(ThyBlackMan.com) The Google Home Hub is a new smart speaker with display and an inbuilt voice assistant. It helps you get every information on a 7-inch screen and lets you listen to your favorite music. The device looks like a tablet attached to a smart speaker, and this combination, without a camera, works great. We find it even better than the Facebook Portal and Portal Plus.
If you don't know, Facebook has launched two smart speakers called Portal and Portal Plus. Both the speakers come with a display and camera (sets alarm bells ringing). Google, on the other hand, is taking the privacy of users more seriously and the company has decided to not include a camera on Google Home Hub. Well, the thought of buying Google Clips still creeps many people out.
Before we go ahead and start our Google Home Hub vs Facebook Portal comparison, here is everything you should know about the Home Hub.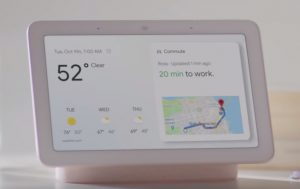 From the design point of view, the Google Home Hub is a beautiful smart speaker designed to solve two problems at once. It gives you an incredible music experience and its smart display lets you see things clearly, thanks to its ambient EQ light sensor. The display can adjust the brightness and colors according to your room's lighting conditions. Most interestingly, the device supports the current digital well-being trend as it takes cares of your eyes by enabling dim screen feature when needed.
The Google Home Hub is more than a smart speaker as it's a "Hub" that lets you see your family's activities from one place. From the dashboard, you can check your family's calendar, task lists, your commute from maps, weather forecast, reminders, and apps from third-party developers. You can also access YouTube on the Home Hub as it comes with the six-month free subscription of YouTube Premium. It means no more ads during the videos you watch. Third party music apps like Pandora and Spotify are also available on Home Hub.
That said, the Google Home Hub lets you control your smart appliances. The company said that the Home Hub supports products of more than 1,000 brands which means, you can control your smart lights, TV, door locks, and more than 10,000 smart products directly with your voice. With Google Photos, you can enjoy a new feature called live albums on your Home Hub. The smart assistant can help you specifically choose and display the pictures you want. All you have to do is to use the right voice command and the smart speaker will bring you the collection of photos on the screen. It's easy because now you can check your photos without scrolling.
You might say that Facebook's Portal can also do the same, as the only major difference between the two speakers is the voice assistant they use. It's true that Facebook Portal is also a powerful device as it uses Alexa skills and it can also be used for voice and video calling. Google Home Hub, on the other hand, supports calling through direct dial feature, and you can't make direct video calls as the device doesn't have a camera.
One of the biggest advantages with the Google Home Hub is the on-screen smart home support, which you can't find on the Portal. Amazon Echo Show has this ability. The Portal doesn't support any external camera, but the Hub lets you connect smart home cameras if you want. From the pricing point of view, the Google Home Hub is the cheapest among the three leading speakers including the Amazon Echo Show and Facebook Portal.
As far as privacy is concerned, Facebook claims that its Portal is completely safe and the company is taking good care of its users' privacy. Facebook ships a camera cover with the device and it also says that the company doesn't record the calls you make using Portal. Facebook is also keeping its smart AI camera technology limited to your device and doesn't expose your identity to the company's server. The Google Home Hub doesn't have a camera, so you can confidently keep it anywhere, be it your bedroom or bathroom.
In this digital age, we all know how safe our data is. Facebook's Portal, no matter how safe it is, can still make you feel uncomfortable if you want to keep it in your bedroom, office, or bathroom. On the other hand, you can keep Google Home Hub anywhere without having to worry about a data breach.
The Google Home Hub is now available in stores for $150. There are four color options available to choose from – Charcoal, Chalk, Sand, and Aqua. Facebook's Portal comes in two variants Portal and Portal Plus. These devices are available at a price of $199 and $349 respectively.
Staff Writer; Corey Shaw
Have any Tech Tips? News? Hit up our Tech Guru at; CoreyS@ThyBlackMan.com