In The Midst Of A Lakers-Rockets Brawl, LeBron James Solidifies That He Came To LA Mainly For His Hollywood Ventures.
(ThyBlackMan.com) In the words of Damian Lillard, "When a fight happens, you see who's with you for real". During Saturday night's Lakers vs. Rockets match-up, a whole lot of reality was revealed during a fight that broke out between Rajon Rondo, of the Los Angeles Lakers, and Chris Paul, of the Houston Rockets.
Irritated with the flopping of Rockets guard, James Harden, Lakers small forward, Brandon Ingram, set off a chain reaction by shoving Harden and staring down a referee after a bad call. This immediately led to Rajon Rondo and Chris Paul facing up, ultimately trading blows.. with Rondo getting the best of Paul.
It was a long time in the making, considering Chris Paul and Rajon Rondo have a history of beef with one another. The punches thrown were truly reminiscent of 90's NBA basketball- an era well before the league went soft. It's only right that two of the last remaining NBA throwback players would be the ones to crank up the time machine. Rondo, being the gritty, take-nothing-from no one style veteran, and Paul, being the angry little man with the Napoleon complex, made for a showdown that allegedly led to their wives fighting in the stands.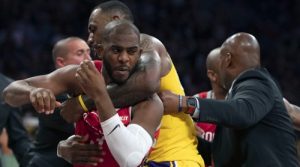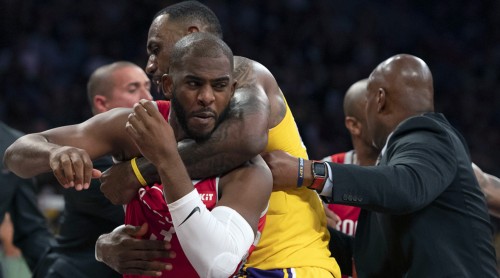 So what exactly was revealed in all of this? First and foremost, Brandon Ingram has a whole lot of heart. In an inspiring display of solidarity, Ingram ran to Rondo's defense, sneaking in a punch aimed directly at Chris Paul. Whether or not the punch landed didn't really matter- it was the gesture that counted. We can now confidently say that Ingram is a "team first" player who will undeniably ride for his squad through thick and thin.
On the contrary, newly acquired Lakers forward, LeBron James, went into full beta male mode, as he put his well-publicized friendship with Chris Paul before his teammates. With tempers flaring, LeBron went over to console Paul. Instead of showing camaraderie by holding his teammates down, LeBron was seen hugging Paul on the sidelines while trying to calm him down in the midst of chaos. It was truly embarrassing to Laker fans who aren't used to this submissive type of behavior coming from their star player. With Magic Johnson in the building, you can rest assured that disappointment set in upon his realization; this wasn't what he was looking for when he signed LeBron to a 4-year deal. As a matter of fact, the Lakers president of basketball operations is notorious for doing the exact opposite.. During the Lakers-Pistons rivalries of the late 80's, Magic was known for putting his friendship with Isiah Thomas aside and going to battle no holds barred with his then best friend. That's the stuff winners are made of. Picture this, Michael Jordan hugging Charles Oakley during a Knicks-Bulls scrap. You'd have better odds picking the Clippers to win a championship this year than that ever happening. Therein lies the difference between the greats and the GOATs.
It was so bad that a few NBA players and veterans even felt the need to voice their opinion on the matter via social media. NBA Champion Stephen Jackson proclaimed, "Don't mind me, I'm just here to see who ain't doing nothing. Who ain't gone ride for their teammate. That's all. Don't mind me. Goodnight world. Love to all". Shortly Thereafter, Rondo's former teammate, Kendrick Perkins, chimed in stating, "lost a lot of respect for a certain someone, but who am I to judge!". Even current NBA superstar, John Wall, took to Instagram to echo Stephen Jackson's sentiments replying, "facts OG *100*"… Quite telling that LeBron's very own peers show such a lack of respect for his character (or lack thereof).
And just like that, 2 games in, it seems as if the early whisperings of LeBron James putting the game of basketball on the back burner and coming to LA primarily to catapult his film career in Hollywood has officially been confirmed. It's becoming glaringly obvious that LeBron has begun shifting his focus from basketball to his career post-retirement. And what better way to ride into the sunset than in a Laker uniform? To LeBron, it's not about wins or losses.. it's not about representing the purple and gold with honor and dignity.. hell, it's no longer even about his individual stats- It's about what he can do next.
It's only fitting that October would be the month where Laker fans' worst nightmare came to reality- There is no king here to save Los Angeles! The closest thing LA currently has to a king is in Brandon Ingram (who may have just officially earned the nickname Kingram).
But don't panic, Laker fans, as there is indeed a light at the end of that tunnel. With one of the best young cores in the league and enough cap space to sign another superstar in upcoming free agency, you better believe Magic Johnson is going to be adamantly pursuing a 1st option level player (Kawhi Leonard and Kevin Durant are some names that come to mind) for LeBron to play comfortably behind, as he slowly makes his thinly veiled transition into the entertainment industry.
This is only the beginning.
Staff Writer; Sccit