Contractors: Here's How to Make Your Business Look More Trustworthy.
(ThyBlackMan.com) Depending on the background of the prospective customer and their previous experience with other contractors, your business may have an uphill battle to get them to trust you. Reaching that point is often necessary to secure the first order – whether a trial order for a smaller task or a large job.
Whatever you can do to help the business appear more trustworthy makes a huge difference to getting the order. The change could appear minor to you, but to other people it matters. It is often the small things that put you over the top on the trust meter.
Here are some suggestions for how you and your business can take on a professional appearance and be trustworthy in the eyes of others.
Carrying the Right Insurance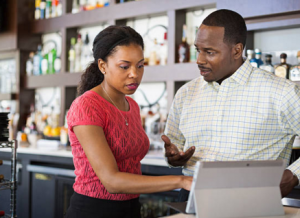 As a contractor performing work in the home or an office building, it's important that you have the right kind of insurance for tasks you'll complete. This could be roofing insurance if you're regularly up on a roof replacing tiles or painter's insurance if you're frequently on ladders painting the sides of buildings.
Insuring through Next Insurance is a natural fit for contractors who require coverage for roofing, plumbing, carpentry, electrical work, or as a handyperson. This insurer understands the needs of people who work with their hands where sometimes the unexpected happens!
Insurance must include all the activities that you or other contractors you team up with plan to perform. The insurance level needs to be sufficient to cover what's necessary. Customers often check the insurance policy the contractor has to ensure everything is in order.
As a plumber in Guelph who's dealt with many different issues on the job, Will Boardman knows first-hand the importance of having plumbing insurance. He says it has covered large expenses in a couple of different situations and paid for itself.
Dedicated Work Lines
Having a dedicated work landline at home is important if you don't work from a commercial office. Make sure that the kids do not answer the phone and it goes to a voicemail service.
Better still, if you're out, have a smartphone that allows dual SIMS cards and run one SIM as a dedicated business line. Redirect calls from the business landline to your business mobile to not miss a call when you're out. At least, if you have bad cell coverage, you can see the voicemail on your phone and respond promptly. In so doing, you'll stay on top of things. People really dislike service providers who don't call back.
Wearing a Uniform
Even if you're the only contactor in your business, create a strict uniform for your work and look the part. If you don't yet have a company logo, get one made on Fiverr.com. Have new overalls with the logo as a badge or embroidered on the front and back. Use the uniform as its own form of advertisement to other people driving by or neighbors who might see the quality of the work and call later.
To make it easier to reach you, have the website address and phone number on the back of the work overalls/uniform. Consider getting a branded baseball cap made too, unless you'll mostly be wearing a hard hat for safety.
Having a Website Made
A local-focus website is a great way to drum up business. It includes the details about the services that you offer as a contractor. If you feel comfortable with it, put your profile image on there and a work biography. Having a website makes your whole business appear more professional.
Enable online payments through PayPal or Stripe to take bookings if you have a service that you offer at a fixed price.
Using Social Media to Your Advantage
While using social media might not be the first thing a contractor thinks about, people still respond to it. With the owner's permission, post a before and after image of the property being worked on. You can obscure their address information to maintain their privacy.
The fact that you're posting about different jobs shows that you completed them reliably. Include real testimonials from the same clients on your website. This connects the dots for interested people trying to find a dependable contractor who shows up on time and gets the job done right.
Don't Forget Your Business Cards
You'd be surprised how often people near the work area will be impressed and come over to ask for your card. You could also be out socializing and see an opportunity to pass along your details. Not having a business card to hand out raises question marks about why not. Don't be that contractor.
Ensure the card has your business information, dedicated phone numbers for the mobile and office lines, and the website address. If you have any professional accreditations that relate to your field, be sure to include those in abbreviated form too.
It's not just one thing that makes a contractor appear respectable and rules out any issue of trust. A collection of sensible actions is needed to create the right first impression and carry it off perfectly. It doesn't require much technical know-how either as there are plenty of people who can help you with getting the details right.
Staff Writer; Peter Ross