COSBY vs. KAVANAUGH: Sex, Lies + No Videotape.
(ThyBlackMan.com) Let' compare and contrast the cases of Cosby, Kavanaugh and Clarence Thomas. When Clarence Thomas was accused of sexually harassing Anita Hill in 1991, few even knew what sexual harassment was. Back in the day, many a powerful executive had a stunning young secretary at his side who, it was assumed, was hardly there for her secretarial skills. And if she didn't want the job, why did she take it, everyone thought.
But it does not work that way anymore. Why? Because when a Black woman (Anita Hill) accused a powerful Black man (Supreme Court nominee Clarence Thomas) of sexual harassment, though she did not prevail, her case was heard. And, thus, the legal concept of "sexual harassment" was seared into our consciousness. Twenty seven years later a white woman, in fact several white women, accuse a powerful white man of far worse, and again the man wins, but the case was heard. And the result? We shall see in November.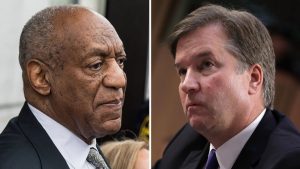 Now let's turn to Bill Cosby. "America's Dad" is led away shuffling in shackles. And little is said in protest. Where is the nation, and where especially is the Black community? Did the speech he delivered some 14 years ago at the NAACP Awards Dinner, excoriating the Black community, play a part in Black America's indifference? But before we get into that, is Cosby guilty? Who knows what happened in any of the myriad cases brought against him. We were not there. However, in some, what took place was doubtless a variant of "the casting couch." It's been an open secret in Hollywood for decades that those with the power to pick and choose whom to "give a break" to, very often demand something in return.  And if she, or he, said no, then someone else would surely say yes.
Thus Cosby's case, like that of Clarence Thomas, proved to be a landmark. Now the casting couch has been exposed and consigned to ignominy.  But why did Cosby become the Poster Boy? No matter who said what about Cosby, be they white woman Black woman or any woman, Black America would not have stood for any of it. But Cosby's 2004 rant, the so-called "pound cake speech" alienated many. In fact, it was African American comedian Hannibal Burress' joke about this that set things in motion.
Burress, in 2014, joked that Bill Cosby has the "smuggest old black man public persona that I hate. He gets on TV, 'Pull your pants up black people, I was on TV in the '80s! I can talk down to you because I had a successful sitcom!' Yeah, but you rape women, Bill Cosby, so turn the crazy down a couple notches." Sexual assault allegations had surrounded Cosby for years, but when Buress' joke went viral, the floodgates opened and dozens of women came forward.
And so, the bottom line? Let's go back 200 years, Thomas Jefferson and Sally Hemmings, his Black paramour. I have seen her pictured as a Black American heroine. Was she? Now this is not to throw stones at Ms. Hemmings, half sister of Jefferson's wife, but only to ask a simple question. Was their relationship consensual?
In other words, no matter how compliant she was, did Hemmings, being that she was enslaved, really have a choice? Did the buxom secretary on the arm of her boss or the rising starlets in the movie studios have a choice? Did Anita Hill negate her case by sending friendly correspondence to Clarence Thomas after the alleged incident? Many Cosby accusers did likewise. And should we take at face value the many current and former female assistants of Judge Kavanaugh who attested to his character? Did any of these women have a choice?
Back to Sally Hemmings. There were countless forcible rapes during the days of bondage. But there were also many in which the woman complied, but acted against her will nonetheless. And so on down through the ages, up until now. The question we are getting at is this, is there a sharp line between rape and sexual harassment? And is there a definite marker between sexual harassment and everyday life? And, if so, what are they? We are in the midst of the painful process of finding out. . .
Staff Writer; Arthur Lewin
This talented author has just published a NEW book which is entitled; AFRICA is not A COUNTRY!.
For more articles written by this talented brother click on the following link;http://thyblackman.com/?s=lewin.