Where to Find Penny Stocks: A Beginners Guide.
(ThyBlackMan.com) Penny stocks are a unique entity in the investment and trading worlds. Somehow, penny stocks can both generate an incredible amount of excitement and leave investors feeling overwhelmed and nervous at the same time. Penny stocks are any stock you can purchase for a low price, outside of the standard trading markets. Generally, you won't buy penny stocks on the NASDAQ but will instead purchase them "Over the Counter." A penny stock doesn't have to be a penny to qualify for the title. Most investors today regard any stock valued at less than $5 a share as a penny stock. However, the definition of this asset will depend on who you ask. According to the Securities and Exchange Commission, a penny stock is simply a low-priced speculative security that allows you to invest in very small or micro companies. So, where can you find your next penny stock investment?
Finding Penny Stocks with a Stock Screener
Penny stocks are a complicated thing. Sometimes they can deliver incredible rewards, and other times, they could leave you with nothing more than regret. Although some people feel negatively towards these stocks, the truth is that any investment comes with risk, and the important thing is to make sure that you know how to manage your decisions.
If you feel that you're ready to trade penny stocks, then you can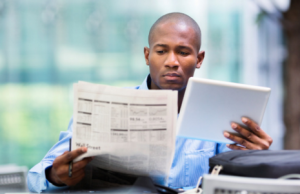 find them online. Most investors will search through forums and message boards, while others will simply keep an eye on the financial news. However, you can use a screening device to speed up your decision process. Bing Finance is a common fundamental stock screener that people can use to filter through the companies that you wouldn't find on the standard exchanges. Alternatively, you can also try the Over the Counter Markets screener. Currently, the OTC screener has around 10,000 securities listed, and many of those can be classified as penny stocks.
Why Use a Stock Screener?
Using a stock screener will help you to make a more informed decision about your stock choices and ensure that you can find penny stocks faster. With a stock screener, you can filter stocks based on things like the Dividends in that asset, cash flow, growing earnings and revenue, and intrinsic value of the company.
The important thing to remember about penny stocks is that much of the trading in this area is speculative, which means that you don't have a lot of certain information about how your business is performing. Many OTC exchanges won't have many requirements for companies who want to report their income statements and sell stocks online. If you see a company with spotty reporting, it could be a good idea to stay away from it completely. Although some penny stocks will require you to take some risks to make a profit, it's important to assess the situation carefully and determine whether each risk is truly worth taking. The more you learn about penny stocks and the markets they trade in, the easier it will be to make the right decisions for you and your family.
Staff Writer; George Ford