Overbearing Oppressive "Black" Women.
(ThyBlackMan.com) There is nothing wrong with a strong woman who speaks her mind, initiates her ideas and meets her goals. But there is a difference between a strong woman and a woman who is domineering, controlling, overbearing and loud-mouthed. This type of woman is very dangerous to the African American man because she has the nature of the slave master buried in her psyche. So whether Willie Lynche existed or not, the ideology of Willie Lynche to use African American women in controlling African American men is real, alive and well.
These women like having their way but will not respect you for allowing that to happen. They see and perceive your kindness as weakness, desperation and gullibility. So if you are bowing down or bending over, stop and man up. Stand up. Speak up. Never allow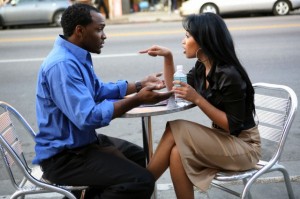 yourself to be treated less than the man you are or should be. You are not a doormat, an ATM machine nor a verbal punching bag. Words hit hard, sink deep and damage the spirit or psyche of the African American man. The slave master knew it and the overbearing African American woman knows it.
Maybe you never thought about it like this but verbal abuse is abuse. Verbal abuse is mental and emotional abuse designed to break you. No matter how fine she is or what she does, the woman should never, ever be allowed to control, manipulate, oppress or dominate you. We hear idiotic songs that sing about weak men like "what have you done for me lately, pay my bills, I'll wash your clothes, I'll pay your rent" etc. Brothers wake up. Don't transition from the slave master's physical plantation to the black woman's mental plantation.
As a real man, you should not be domineering, controlling nor manipulative either. That is neither what manhood is about nor leadership. Be what you want. Lead by example. Treat others the way you want to be treated, especially the woman in your life. If you don't give it out, you have no right to expect it of someone else. All that being said, set your standards and draw your lines in the sand of how the woman must treat and respect you.
As a marriage, family and relationship counselor and mediator, I have counseled thousands of people – both men and women. Many good, strong, respectful, independent and sincere women of purpose. But then there are the controlling women who speak to men like the slave master is talking. I have actually written down their conversations and compared them to the words of the slave master used to mentally break, damage and degrade the African American man. The similarities are shocking.
So this is a wake-up call for the African American man to raise your standards of acceptance. For you to expect more of yourself because you are worth it and capable. For you to draw the line with your female companion, wife or girlfriend and never accept being mistreated. I must say I am fortunate to be married to a strong, respectful African American female who speaks her mind, shares her ideas, honors my role of authority and makes be better because of what I learn from her. I wish the same for every good man, every real man, every sincere man out there who reads this article.
Staff Writer; Trevo Craw